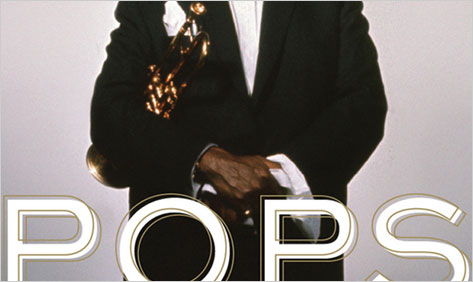 In Pops, his solid if atypically cautious biography of Louis Armstrong, Terry Teachout doesn't make too much of "Struttin' with Some Barbecue." Composed by Armstrong, with, as Teachout conjectures, assistance from his piano-playing wife, Lil, "Barbecue" was brought to life at a monumental 1927 record session by Armstrong's Hot 5 ensemble. It can be found on any comprehensive Armstrong collection (you can't go wrong with Louis Armstrong: Portrait of the Artists as a Young Man, 1923-1934 with its Grammy-winning liner notes by jazz scholars Dan Morgenstern and Loren Schoenberg). But it was the song's appearance on The Smithsonian Collection of Classic Jazz that shook the earth for me.
As a music-besotted teenager in the early '70s, the incremental move from rock to jazz listening was seismic enough. Fusion, that sonic bellow of improvisational testosterone, somehow opened the doors to what had come before: Miles Davis, Charlie Parker, Duke Ellington, and their ilk all began to make sense. A passion was soon born. But 1920s jazz was a locked door to me. The tinny sound of the recordings, the all-for-one polyphony that clouded the performances, the jerky rhythms: It all seemed, to my adolescent ears, as an antiquated sound that only the chosen ones — those with the deepest album collections — could appreciate. Louis Armstrong was a hallowed name, but it was an encomium I was taking on faith.
The original 1973 release of The Smithsonian Collection of Classic Jazz (the brainchild of the late great critic Martin Williams) was one of those godsend compilations that provided both an invaluable introduction and a road map to a storied musical universe (likening it to a jazz Nuggets wouldn't be too far off the track). That "Barbecue" is actually a great-sounding recording didn't hurt, and its joyous melody, combined with the band's exuberantly jaunty execution, practically dared you to turn away.
Still, nothing quite prepared me for Armstrong's trumpet solo. Over a stop-time rhythm, Armstrong sings an improvised song-within-a-song on his horn; his golden tone, so firm and rounded it could bore through a brick wall, yet so mellow it could seduce a harem girl, enfolds an extemporaneous expression of pure melody. In a flash the pieces came together: Armstrong's vision made not only his singular genius clear; it also illuminated the entire era, as I began appreciating personal statements from early soloists, as well as the ensemble unity that made pre-Swing jazz so exhilarating. Armstrong, it turned out, was all that.
For all its intelligence, Teachout's worthy bio never comes alive in a way that explains the durability and inspiration of Armstrong's music. It lacks what Pops himself had in excess: personality.