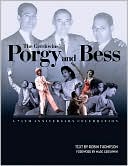 The Broadway musical Porgy and Bess opened on this day in 1935. Conceived by George Gershwin as an "American folk opera," the musical has sometimes attracted criticism as a racist portrayal of African-American subculture. But as described by Maya Angelou, a cast member of the 1952 production that triumphantly toured the world, the musical presented both an accurate portrait of "the harshness of Black Southern life" and a historic opportunity to break at least some racist stereotypes. In her memoir Singin' and Swingin' and Gettin' Merry like Christmas, Angleou recalls her pride at joining Leontyne Price, William Warfield, Cab Calloway, and others who became the first to present an American opera at Milan's La Scala, and the first by African Americans:
When Robbins was killed [in Act I, scene 1], the moans were real (didn't we all know people who, unable to talk back to authority, killed a friend over fifty cents?). The entrance of the white policeman was met with actual fear (wasn't the law always on the side of the mighty and weren't the jackals always at our heels?). The love story unfolded with such tenderness that the singers wept visible tears. (Who could deny this story? How many Black men had been crippled by the American oppression…? How often had the women submitted to loveless arrangements for the sake of bare survival?)
When that 1952 production played Moscow, Truman Capote went along as a New Yorker correspondent. His two-part magazine article, later published as The Muses Are Heard, is an amusing chronicle of red tape, Red-bashing, and bewilderment:
[As] the cast launched into a jazzy crap-game sequence…whispering ran through the audience, as though they were asking each other what it meant, these excited men tossing dice? The whispering gathered momentum and turned into gasps, a tremor of shock, when Bess, making her initial appearance, hiked up her skirt to adjust her garter.… Sportin' Life's witty, lascivious gyrations ignited fresh firecrackers of audible astonishment. The crap game concludes with Crown killing one of Porgy's neighbors; a funeral scene follows; while the murdered man's widow sings a lament, "My Man's Gone Now," the mourning inhabitants of Catfish Row sway in a tribal circle around the corpse. At this point, an important Soviet dignitary turned to a correspondent and said in Russian, "Ah, now I see! They are going to eat him."
---
Daybook is contributed by Steve King, who teaches in the English Department of Memorial University in St. John's, Newfoundland. His literary daybook began as a radio series syndicated nationally in Canada. He can be found online at todayinliterature.com.