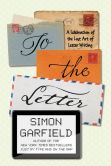 George Washington signed the Postal Act on this day in 1792, creating a Post Office Department and a national postal service. By the mid-nineteenth century, says David M. Henkins in The Postal Age, "a critical mass of Americans [were] reorganizing their perceptions of time, space, and community around the existence of the post." But the USPS, like most postal services worldwide, has been an institution in crisis for some time: mounting deficits, the carrier bags full mostly of junk mail, the politicians capable of little more than "legislation to rearrange the deck chairs on the postal Titanic" (Doug Bandow, Forbes).

Even given an economic solution, says Simon Garfield in To the Letter, there's no going back socially. Garfield says that his "Celebration of the Lost Art of Letter Writing" is neither anti-email nor anti-progress, just "driven by a simple thing: the sound — and I'm still struggling to define it, that thin blue wisp of an airmail, the showy heft of an invitation with RSVP card, the happy sneeze of a thank-you note — that the letter makes when it drops onto a doormat." After offering samples from across the centuries, Garfield laments the inevitable:
When will it come, that monumental day, that last proper letter through the door? Next Wednesday? A year from today? Five years? The last letter will appear in our lifetime. It will be personal, emotional, maybe even handwritten, but crucially it will be physical, the evidence of a human connection.… We will not know it was the last until months or years later, when we have glanced back to acknowledge a passing, like the last hair to whiten, or the last lovemaking.
---
Daybook is contributed by Steve King, who teaches in the English Department of Memorial University in St. John's, Newfoundland. His literary daybook began as a radio series syndicated nationally in Canada. He can be found online at todayinliterature.com.