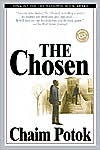 February 17: Chaim Potok was born on this day in 1929. Potok's first novel, The Chosen (1967), spent six months on the bestseller lists, and resulted in a National Book Award nomination, a movie, a musical, and a sequel (The Promise). Potok's parents christened their son "Herman Harold" and then, according to tradition, chose the Hebrew name of "Chaim" — "life" or "alive." In The Chosen, the Orthodox Jewish father of hero Reuven Malther tells his son that, whatever his specific choices of faith and career, he must choose life:
Human beings do not live forever, Reuven. We live less than the time it takes to blink an eye, if we measure our lives against eternity. So it may be asked what value is there to a human life…. I learned a long time ago, Reuven, that a blink of an eye in itself is nothing. But the eye that blinks, that is something. A span of life is nothing. But the man who lives the span, he is something.
Potok said that one of the major literary influences on his writing was the Hebrew novelist and short story writer S. Y. Agnon, who died on this day in 1970. The following passage, now printed on the Israeli 50 shekel note, is taken from Agnon's Acceptance Speech for his 1966 Nobel:
As a result of the historic catastrophe in which Titus of Rome destroyed Jerusalem and Israel was exiled from its land, I was born in one of the cities of the Exile. But always I regarded myself as one who was born in Jerusalem. In a dream, in a vision of the night, I saw myself standing with my brother-Levites in the Holy Temple, singing with them the songs of David, King of Israel, melodies such as no ear has heard since the day our city was destroyed and its people went into exile. I suspect that the angels in charge of the Shrine of Music, fearful lest I sing in wakefulness what I had sung in dream, made me forget by day what I had sung at night; for if my brethren, the sons of my people, were to hear, they would be unable to bear their grief over the happiness they have lost. To console me for having prevented me from singing with my mouth, they enable me to compose songs in writing.
---
Daybook is contributed by Steve King, who teaches in the English Department of Memorial University in St. John's, Newfoundland. His literary daybook began as a radio series syndicated nationally in Canada. He can be found online at todayinliterature.com.