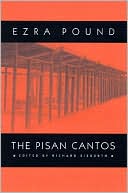 On this day in 1933 Ezra Pound met with Benito Mussolini. This was a brief, one-time talk, but it would bring out the worst in Pound's personality and lead to personal disaster. It would also inspire some of the best of modern poetry — The Pisan Cantos, winner of the 1948 Bollingen Prize.

Pound had lived in Italy since 1924, becoming increasingly political. Even before the meeting, he had come to look upon Mussolini as a great man and Italy's salvation. After their talk Pound was even more impressed, reporting that he had "never met anyone who seemed to GET my ideas so quickly as the boss." When Mussolini went his own dictatorial way, Pound went with him, or far enough to make a weekly series of radio broadcasts from Rome during WWII, singing Mussolini's praises and denouncing American policy. The broadcasts often became rambling diatribes — on international economic or Jewish conspiracies, for example — but they were offensive enough to get Pound arrested at the end of the war, charged with treason, and confined for weeks in a detention center in Pisa. Pound was sixty at this point, and if something had not snapped before, it did during his confinement — or so believed the psychiatrists who judged him mentally unfit for a trial that could have led to hanging. Pound spent the next twelve years on the criminally insane ward of St. Elizabeths Hospital, Washington, D.C.

The tragic and humiliating ordeal had moments of humor. Pound wrote much of The Pisan Cantos while incarcerated in Italy under the watchful eye of the American military censors. Unfamiliar with Pound's modernist style and worried that he might be communicating in code with other undesirables, the authorities informed their famous poet-prisoner that his manuscript might have to be confiscated. Pound replied with a "NOTE TO BASE CENSOR" which attempted to explain his allusive technique and to provide assurances that he had "nothing in the nature of cipher" up his poetic sleeve:
"Mine eyes have" (given as mi-hine eyes hev) refers to the Battle Hymn of the Republic as heard from the loud speaker. There is not time or place in the narrative to give the further remarks on seeing the glory of the lord. In like manner citations from Homer or Sophokles or Confucius are brief, and serve to remind the ready reader that we were not born yesterday….
---
Daybook is contributed by Steve King, who teaches in the English Department of Memorial University in St. John's, Newfoundland. His literary daybook began as a radio series syndicated nationally in Canada. He can be found online at todayinliterature.com.