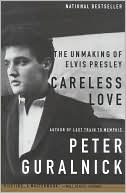 Elvis Presley died on this day in 1977. The closing pages of Peter Guralnick's monumental two-volume biography — Last Train to Memphis: The Rise of Elvis Presley (1995) and Careless Love: The Unmaking of Elvis Presley (2005) — attempt to capture the King's freak-show funeral. After gritting his teeth through a description of the less attractive details — the seventeen white Cadillacs, the handful of fans who tried to steal the body, the cousin who managed to snap and shop a picture of Elvis in his coffin — Guralnick pays his final respects:
The cacophony of voices that have joined together to create a chorus of informed opinion, uninformed speculation, hagiography, symbolism, and blame, can be difficult at times to drown out, but in the end there is only one voice that counts. It is the voice that the world first heard on those bright yellow Sun 78s, whose original insignia, a crowing rooster surrounded by boldly stylized sunbeams and a border of musical notes, sought to proclaim the dawning of a new day. It is impossible to silence that voice; you cannot miss it when you listen to "That's All Right" or "Mystery Train" or Blue Moon of Kentucky" or any of the songs with which Elvis continued to convey his sense of unlimited possibilities almost to the end of his life…. That is what we have to remember.
Only the flip side of the Elvis legend is remembered in White Noise, Don DeLillo's 1985 send-up of contemporary America. In the following passage, Professor Murray J. Siskind, a visiting lecturer at College-on-the-Hill, confides his admiration and ambition to Jack Gladney, renowned professor of Hitler studies:
Nobody on the faculty of any college or university in this part of the country can so much as utter the word Hitler without a nod in your direction, literally or metaphorically. This is the center, the unquestioned source. He is now your Hitler, Gladney's Hitler. It must be deeply satisfying for you…. You've evolved an entire system around this figure, a structure with countless substructures and interrelated fields of study, a history within history. I marvel at the effort. It was masterful, shrewd and stunningly perceptive. It's what I want to do with Elvis.
---
Daybook is contributed by Steve King, who teaches in the English Department of Memorial University in St. John's, Newfoundland. His literary daybook began as a radio series syndicated nationally in Canada. He can be found online at todayinliterature.com.