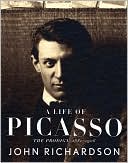 Pablo Picasso — or, to give him all his baptismal names, these taken from a gallery of relatives and saints, Pablo Diego José Francisco de Paula Juan Nepomuceno María de los Remedios Cipriano de la Santísima Trinidad Ruiz y Picasso — was born in Málaga, Spain, on this day in 1881. Though Picasso's father was an artist and a professor of art, most biographers describe him as a talentless plodder with a passion for painting pigeons. But his pencils and brushes were there for his precocious son, and the lids of his cigar boxes made good canvases. Picasso couldn't read until age ten nor tolerate school instruction, but his first words were "pencil, pencil," and by his early teens he could make his father, upon seeing his son's better pigeon art, vow to give up painting.

Or so go the apocryphal stories, these inspired by Picasso's embroidered memories and promoted by Jaime Sabartés, the painter's secretary, memoirist, and "legend-monger." In the early chapters of A Life of Picasso: The Prodigy, the first book in his award-winning, multi-volume biography, John Richardson establishes that the painter was prodigious in his image making as well as his art.

Richardson doubts that Picasso was a failure at arithmetic and reading, and suggests that many of the works from Picasso's boyhood "may well have been destroyed to preserve the legend that the artist never drew like a child," being "an artistic virtuoso who sprang fully formed from his father's head."

Among Picasso's early work that has survived, Richardson finds his self-portraits most revealing, in that they offer evidence of his lifelong "self-dramatizing, chameleon-like sense" of himself:
Picasso's claim that he had "never been too concerned with my own face" is not borne out by his work. As teenagers do, Pablo took narcissistic delight in scrutinizing his looks in a mirror, but thanks to his sense of drama, he was able to develop this adolescent scrutiny into a metamorphic power…. And so in the space of a single year (1896-97), Pablo's self-portraits take extraordinarily diverse forms — child genius with unkempt hair, eighteenth-century nobleman in powdered wig, dashing young dandy in still collar and stock — it is because he wanted to "thrash around": to fantasize and dramatize himself, and manipulate his own identity and appearance.
---
Daybook is contributed by Steve King, who teaches in the English Department of Memorial University in St. John's, Newfoundland. His literary daybook began as a radio series syndicated nationally in Canada. He can be found online at todayinliterature.com.