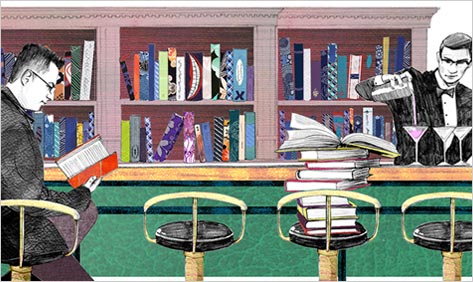 "In the evening, the 14th floor, featuring the Poetry Garden, Writer's Den, and magnificent granite bar, transforms into Bookmarks Lounge. Bookmarks serves such signature cocktails as the Great Gatsby and the Capote."
— From the website of The Library Hotel
And may we also recommend:
A Sidecar Named Desire: Cognac, triple sec, and lemon juice, shaken well over cracked ice. Served by a kind stranger.
The Gripes of Wrath: A dusty glass of 1933 vintage California Zinfandel with a shot of bitters. To-go orders only.
The Turn of the Screwdriver: The appearance of a drink but is it? One part clear spirits and two parts juice of orange. Be sure to turn the glass 180 degrees clockwise before imbibing.
Catcher in the Rye and Ginger: If you really want to hear about it. Served with a splash of sour mix in a repurposed ashtray and garnished with maraschino cherries suitable for lobbing at phony adults.
The Tequila Sun Also Rises: A double-barreled shot of Tequila and orange juice, no adverbs. Served in a clean, well-lighted corner of the bar.
Martini Chuzzlewit: Mix, stir, and serve, in a 5 to 1 ratio gin and dry vermouth in a cocktail glass with a twist of Meyser lemon. Sit alone at the bar and drink while hoarding all the peanuts. Go on, you pig.
The Imperfect Storm: Vodka, rum, and tequila, shaken violently. Served in a schooner rimmed with salt and garnished with strands of seaweed.
Three Cups of Tea for Me: You're in the wrong place — but okay, we'll accommodate. A shot of sherry in a strong cup of English breakfast tea. Served in a crock.
***
And in addition to our regular menu entrees, we offer these daily specials:
Tuesdays with Morrie: Smoked Salmon Rushdie on a stale bagel sprinkled with rue and served by a cranky old man who excoriates you for wasting your time in a joint like this when you could be busy finding meaning to your worthless life.
Lake Wobegone Wednesdays: Cheeseburger, apple pie, and a milkshake. An All-American meal served only to above-average customers.
The Dish That Is Thursday: Is it lamb or beef? Couscous or polenta? Is the waiter a waiter or is he just waiting? And are you a diner or a food inspector? Nothing is as it seems in this deliciously suspenseful mystery meal.
Friday Night Lights: Baby quarterback ribs, barbecued chicken, mashed potatoes, and corn bread. Available only on flatbed tailgates in the parking lot.
Me Talk Pretty One Saturday Night and Sunday Morning: A Channel-spanning platter of poisson et chips, or a mixed grill of boeuf avec bangers and mash, or Shepherd's tarte with a dessert of trifle flambé.
Brooke Sunny is Sheila Bilak, Ruth Bonapace, Patrick Dunn, Suzanna Filip, Eric Lehman, Janice Maffei, Ricki Miller, Robert Morris, Holly Preston, Patrick Redmond, John Rosenblatt, Dan Sarluca, and Daniel Menaker.