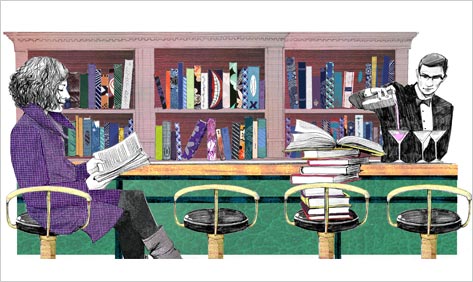 "In recent years, some of Dr. Goldberg's patients have made unusual requests… [including] his accompaniment to a stressful M.R.I. where Dr. Goldberg held the patient's toe to supply comfort…. [In his new concierge medical practice, patients] will pay $25,000 a year for unfettered access to [Dr. Goldberg and his partner]. Patients will be able to call and see and text the doctors whenever they want; they will be able to receive home visits, though those will cost extra (and so will lab work)…. [The practice] will also offer dermatological fillers — come for the stress test, stay for the collagen."— The New York Times
Welcome to PersMed, your personal doctor-on-call (also spelled PurseMed). While your $25,000 annual fee covers standard office visits, e-mail access, and our patent-pending Colonoscopy Anywhere (TM) service, to optimize your medical experience there are a number of add-on options we offer only to those patients who truly believe no price can be put on the gift of life.

CUSTOMIZED WAITING ROOM. Why should you have to listen to elevator music and read six-month-old magazines? For a small charge, we'll hook our office speakers into your iPod whenever you visit — and our staff will supply a selection of books and periodicals from a wish list you provide. Jan in Reception will also be available for Scrabble — though we should warn you, she's quite good. We'll also stock your favorite snacks, though there will be an extra charge if they're not healthy choices.
PERSONAL REMINDERS. Often forgetting to take your pills? Of course you are — you have far more critical things to remember. For a nominal fee, we'll call to remind you, up to twelve times a day, in whatever language you choose. Wolof, Welsh, and Wakhi $50 additional. Or, we'll get the celebrity of your choice to call you instead — also in whatever language you desire. (Cate Blanchett speaks excellent Romblomanon.) We can also call your family members to update them about your condition — or, if you'd prefer, we can pass along whatever medical information, fact or fiction, you'd like us to share. Hoping your children might be nicer if they thought their inheritance was getting close? We're happy to help.

COZY-MRI. Cold, sterile examination tables and imaging equipment are for the average patient, but you deserve better. We've lined all of our M.R.I. machines with top-of-the-line cashmere (from organic-fed Mongolian goats) — and, for a low price, after your scan, we'll give you a matching sweater to take home. A scarf, too, if it's cold. We can also infuse soothing scents from your childhood into the machine. Choices: baby powder, movie popcorn, pickled herring.

TRY-BEFORE-YOU-BUY PHARMACY SERVICE. Who has time to experiment with different pills to see which works best for every little health problem? We'll send you an assortment each month to try at your leisure — keep the ones that make you feel better, and send the others back. Worried about side effects? We have other pills to take care of those, and we'll send you those too. Always aiming to be a trend-setter? We'll send you samples of the latest FDA-approved (and disapproved!) drugs, even before they hit the market, so you can be the first of your friends to check them out.

KNEE REPLACEMENTS. Why wait to get new parts until you need them? The truly privileged can afford to optimize their bodies. We offer knee, hip, and other joint replacement procedures years before your original parts reach the point of no return, saving you decades of discomfort, pain, and ridicule by your more limber peers — not that you have any true peers, of course. Plus, with the powerful plant-based narcotic we import from an island we can't tell you about for legal reasons, you won't feel the pain of surgery or just about anything else.

CRYOGENIC PRESERVATION. It hasn't yet been proven to work, but that doesn't mean you don't deserve a chance at immortality. Future generations can benefit from the wisdom someone like you can provide — and in return for the deed to your Fifth Avenue townhouse, we'll take it upon ourselves to do whatever we can to stave off permanent death. We also work with image consultants who can help you choose the outfit you'd like to wear to the future. Plus, in return for the transfer to us of all of your remaining frequent flier miles, we'll also preserve up to three of your favorite pets. (No birds.)

YOUR VERY OWN MEDICAL LICENSE. Even with the many custom services we provide, why should you need a doctor to tell you what's wrong, prescribe medication, or perform painful and invasive procedures? You've earned the right to take care of your problems yourself. And for a small honorarium, we'll issue you your very own medical license, so you're not beholden to anyone. Let others fill out forms, wait for appointments, and deal with the whims of other humans. You deserve better. (For entertainment purposes only; Not available in most states.)

Operators are standing by. Or we can come right to you. Are you hungry? Can we bring you lunch?

Jeremy Blachman makes the most of his time in doctor's waiting rooms by writing humor pieces. Read more at jeremyblachman.com.