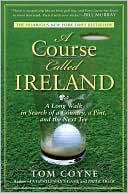 March 17:Those looking for a reader's way to toast Ireland on this St. Patrick's Daymight consider Tom Coyne, the Irish-American golfer-writer who wrote A Course Called Ireland: A Long Walk inSearch of a Country, A Pint and the Next Tee. Forty golf courses in fourmonths, all arrived at by walking around the coast of the ancestral homeland. Readerscan judge for themselves the appropriateness of Coyne's two opening quotations:
Think you're escaping andrun into yourself. Longest way round is the shortest way home. (James Joyce, Ulysses)

It's no simple businessbeing mad. (Paddy from Westport)
Another quotation has near-epigramstatus, this from early in the book when Coyne attempts to sell his wife on hisbig idea. "The greatest round of golf ever attempted," says Coyne, "Imight end up in the Guinness Book ofWorld Records." With which his wife concurs: "You'll end up inthe Guinness. That sounds about right." Of Coyne's three topics, golf certainlytakes third place, but the love of the pint doesn't often beat out the love ofthe country. The following comes at the walkabout's halfway point, Coyne havingreached a rope suspension bridge near the coastal village of Ballintoy, CountyAntrim:
The Carrick-a-Rede bridgehad been suspended over the waters of the Atlantic for hundreds of years, usedby fishermen to cross from the mainland out to a promontory of rock where theycould string their nets and trap the salmon swimming through the channelbetween. …Behind me was the expansive beauty of the Antrim coast, green hillsrippling into the mist, and birds circling the blue waters, indifferent to thewaves crashing on the rocks below. A dolphin swam in a still cove beneath aneroded rock face, and I was watching for it to break the surface again when Iwas told it was my turn to cross. I'd come for golf, but somewhere along theway, I'd picked up a simpler sense of contentedness, maybe even a peace. I hadfood to eat and a bed in my future and enough tread left on my shoes to get methere. Good enough. …Living as a dot on an endless road had begun to make theworld feel larger and this walker feel smaller—not insignificant, but a bitless complicated, shedding worries with each mile until it was just me and mysticks and a view I hoped I would never forget.
---
Daybook is contributed by Steve King, who teaches in the English Department of Memorial University in St. John's, Newfoundland. His literary daybook began as a radio series syndicated nationally in Canada. He can be found online at todayinliterature.com.