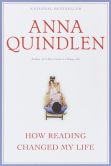 Anna Quindlen was born on this day in 1952. Less known than Quindlen's bestselling novels — the most recent of them Every Last One (2010) — and her Pulitzer Prize–winning journalism is her memoir, How Reading Changed My Life. Quindlen is no mere lobbyist for the Western Canon, and she scoffs at the book snob who cannot recognize "that the uses of reading are vast and variegated and that some of them are not addressed by Homer." But she admits that the classics can bring benefits as well as pleasures:
When I was in eighth grade I took a scholarship test for a convent school, and the essay question began with a quotation: "It is a far, far better thing that I do, than I have ever done; it is a far, far better rest that I go to, than I have ever known." Later, over a stiff and awkward lunch of tuna-fish salad, some of the other girls at my table were perplexed by the source of the quotation and what it meant, and I was certain, at that moment, weeks before my parents got the letter from the nuns, that the scholarship was mine. How many times had I gone up the steps to that guillotine with Sydney Carton….
This time of year, Quindlen is in high demand on campus. In her commencement address at Grinnell College in 2011, she recalled the America that she graduated into — "a Potemkin village of alleged prosperity and progress based on easy credit and crazed consumerism — and urged the new graduates to continue the makeover:
…[of] a financial system in which it was possible to become rich and powerful while investing and trading in nothing at all. An information system paralyzed and sabotaged by the technology that was outstripping it. A political system for which too many held open contempt. A consumer culture making things that didn't last and that people didn't really need. What happens to a country that has developed the peculiar habit of shopping for recreation when it runs out of money? Well, it can either screech to a halt, or it can discover that its priorities need to be recalibrated, and that "stuff" is not salvation…
---
Daybook is contributed by Steve King, who teaches in the English Department of Memorial University in St. John's, Newfoundland. His literary daybook began as a radio series syndicated nationally in Canada. He can be found online at todayinliterature.com.