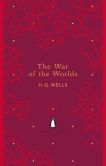 They look like tentacles to me. There, I can see the thing's body. It's large, large as a bear and it glistens like wet leather. But that face, it…. Ladies and gentlemen, it's indescribable. I can hardly force myself to keep looking at it. The eyes are black and gleam like a serpent. The mouth is V-shaped with saliva dripping from its rimless lips that seem to quiver and pulsate. The monster or whatever it is can hardly move. It seems weighed down by…possibly gravity or something. The thing's raising up. The crowd falls back now. They've seen plenty. This is the most extraordinary experience. I can't find words…. I'll pull this microphone with me as I talk. I'll have to stop the description until I can take a new position. Hold on, will you please, I'll be right back in a minute….
As described in the Orson Welles radio adaptation of The War of the Worlds, the Martians landed on this day in 1938. In The Martians Have Landed, a "History of Media-Driven Panics and Hoaxes," Robert E. Bartholomew and Benjamin Radford devote a chapter to several copycat broadcasts of the Wells-Welles original:
On the night of November 12, 1944, pandemonium erupted in Chile after a nationwide broadcast of The War of the Worlds. Some people barricaded themselves in their homes; others fled to the hills. One provincial governor mobilized artillery units to repel the "Martians." Five years later there was an even greater uproar in Quito, Ecuador, after a radio drama about invading space aliens. Upon realizing it was a play, angry residents began rioting. A mob marched on the radio station and burned it to the ground, killing fifteen, including the drama's mastermind.
---
Daybook is contributed by Steve King, who teaches in the English Department of Memorial University in St. John's, Newfoundland. His literary daybook began as a radio series syndicated nationally in Canada. He can be found online at todayinliterature.com.