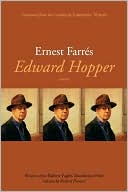 We continue our celebration of National Poetry Month, and Graywolf Press, with verse by the Catalan poet Ernest Farrés, translated by Lawrence Venuti, drawn from the volume Edward Hopper.
Railroad Train, 1908
No sooner is the caboose
out of sight than they've
already forgotten you.
It's like losing clout or taking
a load off their minds. That's just
how they, who are out
to lunch or do nothing
with their lives, wash their hands
of you. Got it? Yet the trains you catch
are determined, air-conditioned, carnivorous,
in fine fettle. Thickening fogs
rise yet fail to intimidate them.
They breathe in, breathe out, iridesce, seethe.
They need a ton of room
to levitate in a hurry, heading
for the possibility of other worlds
or an extraordinary order of things.
Their windows give evidence of valleys,
depressions.
Leaving on days beneath a leaden sky
is true to type, as if clouds were formed through contact
with sweat and hot breath.
Hours later
you'll be swaddled in strange lights and shadows,
gusts and twittering colors, unaccustomed racket.
Ernest Farrés, "Railroad Train, 1908" from Edward Hopper. English translation copyright © 2009 by Lawrence Venuti. Reprinted with the permission of Graywolf Press, Minneapolis, Minnesota. www.graywolfpress.org