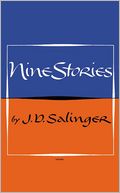 On this day in 1948, J. D. Salinger's "A Perfect Day for Bananafish" was published in The New Yorker; in the same magazine, on the same day in 1953, Salinger's "Teddy" also appeared. These are the first and last stories later collected in Nine Stories; with The Catcher in the Rye, published in 1951, this five-year span represents the foundation of Salinger's reputation. And as "Bananafish" introduces Seymour Glass, that story represents the debut of the fictional family that dominated Salinger's later novellas, Franny and Zooey, Raise High the Roof Beam, Carpenters, and Seymour: An Introduction.

Salinger's accomplishment provoked passionate debate — and parody. In "Fritz," collected in Who Do You Think You Are (1976), Malcolm Bradbury takes aim at the entire Glass family and pity on their devoted, abandoned followers:
The prolonged silence of J. D. Salinger still raises an uneasy shiver or two in those forty-year-olds who, weary for a moment with the constant round of divorce and wife-swapping, hark back to their college days, when they had the Glass family saga to serve them as an ongoing testament of the path to ultimate truth. It's happy news, then, that the sequence is not quite ended, as the following item, culled of course from The New Yorker, shows.
Bradbury's Fritz is a janitor at the Glasses' Manhattan apartment building — though perhaps not a typical janitor, being "au fait with the realization that we dwell in an age of anxiety." From his unique vantage point Fritz is able to report to us what Salinger won't: that Buddy quit writing for the macrobiotic fennel business, that Franny got married to a Buick dealer, that
Zooey stayed on at the apartment a while, calling up on the telephone at one end of the place and then running to answer it at the other, but after a couple of months he took off too and, after a spell financing blue movies, opened a Zen Archery range for singles in Sarasota, Florida. Seymour, being dead, has been harder to keep track of, but no doubt he's around somewhere. Life has calmed a lot, around this distinctly Manhattanesque locale, and the only worrying thing is the phone calls. They come from some guy in New Hampshire or somewhere; and he seems to have been calling for, like, years, looking for the tribe.
---
Daybook is contributed by Steve King, who teaches in the English Department of Memorial University in St. John's, Newfoundland. His literary daybook began as a radio series syndicated nationally in Canada. He can be found online at todayinliterature.com.