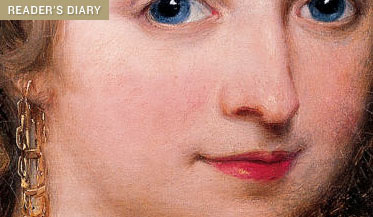 Alan Bennett is one of England's crown jewels: the author of scores of plays, books, television scripts, and films (including Talking Heads, Habeas Corpus, The Madness of King George, An Englishman Abroad, and The History Boys), Bennett in recent years has also developed his own distinctive brand of fiction, part novella and part parable. His latest example of the genre, The Uncommon Reader (Farrar, Straus and Giroux) is a comic gem.

The uncommon reader of the title, the Queen of England, has not previously taken much interest in that activity. "She read, of course, as one did, but liking books was something she left to other people." But when she stumbles upon a City of Westminster mobile library parked outside the Buckingham Palace kitchens, she feels duty-bound to borrow a book — by Ivy Compton-Burnett — and finds it not uninteresting. Soon she has moved on to Henry James, Alice Munro, and Jean Genet, with mixed results: while reading enriches her spirit, the awkward and anti-social habit isolates her from her philistine husband, her vacuous prime minister, and the country's doggedly anti-intellectual populace. Within this simple and unpretentious little fable, Bennett, a sly modern Aesop, has concealed a passionate defense of literature and of humanistic education.

We in America have a national treasure of our own: Daniel Schorr, now 91 years of age, whose career in journalism has lasted for seventy years and shows no signs of slowing down. The last survivor of Edward R. Murrow's team at CBS, where he covered the McCarthy and Watergate hearings among other historic events, Schorr has been senior news analyst at National Public Radio for the past two decades. Come to Think of It: Notes on the End of the Millennium (Viking) is a collection of the weekly broadcasts he delivered at NPR between 1990 and 2007.

These short essays collectively make up a comprehensible history of our time, delivered in bite-sized portions nicely seasoned with Schorr's dry irony. (His first entry, a New Year's Eve broadcast in which he summed up the events of 1990, is characteristic: "More improbable than what the imagination can conceive is what actually happened this year. Millie's Book, reportedly dictated by a dog to the first lady of the land, tops the bestseller list way ahead of Nancy's book and Ronnie's book.") The invasion of Kuwait; Waco; the O.J. Simpson trial; the Unabomber; the Million Man March; the Enron Scandals: 9/11 and its aftermath: to revisit these events with Schorr is to remember vividly what it all felt like while it was happening. Schorr's uncommon common sense has always informed his reflections; now, in old age, his longevity has given him an enviable view of history's Big Picture.

Schorr's vision of the contemporary United States is often disturbing, but hardly more so than that painted by Donna Foote in Relentless Pursuit: A Year in the Trenches with Teach For America (Knopf). Foote follows the fortunes of four young TFA recruits as they labor in the classrooms of Locke High School in South Central Los Angeles, "a de facto gangland" where many of the students are functionally illiterate and most have never even left their embattled neighborhood. The story related by Foote is not merely the now-standard one of how American schools fail children, but a harrowing if reluctant acknowledgment that no school and no teachers, perhaps, can conquer what is in effect a complete societal and cultural breakdown.

It's not that the bright, idealistic young people who staff Teach For America don't make a difference. It's just that their help can only go so far; as one of the organization's most vocal critics said, TFA is only a "Band-aid on a bleeding sore." Well, yes: but it's a lot better than no Band-aid. Readers seeking the sort of hopeful message of movies like Stand and Deliver or To Sir, With Love will not get it from Relentless Pursuit; but however heartbreaking, even tragic, the events and people it describes, this book is not without hope. Change might be possible — but the challenges involved in implementing it are dauntingly huge.

Readers of Foote and Schorr might be tempted to think that we live in interesting times. But everything is relative. No times have ever been more interesting than Napoleonic and post-Napoleonic Europe, and few people were accorded a more central spot from which to observe its dramas than Lucia Mogenigo, the subject of Lucia: A Venetian Life in the Age of Napoleon (Knopf) by Andrea di Robilant, Lucia's great-great-great-great grandson.

Born into one of Venice's noblest families and married into another, the teenaged Lucia of the 1780s assumed that her life in the Serene Republic would follow the pattern of her mother's and grandmother's. But the French Revolutionary wars put an end to the Republic in 1797, and Lucia was an eyewitness to the degradation of her native city, the fall of Paris to the Russian army in 1812, the revolutions of 1848, and the bitter struggles for Italian unification. In youth she was a friend to the Empress Josephine, in middle-age the landlady of Lord Byron, and in old age a distinguished relic of the glamorous Venetian past, an object of pilgrimage to Ruskin and other cultural sightseers. The resilient Lucia was an interesting character in her own right, and her story is every bit as engrossing as that of her father, which di Robilant recounted in his popular 2003 book A Venetian Affair.

Giorgio Vasari's Lives of the Artists (1550, 1568) has had an incalculable influence on generations of historians and artists, creating the official "canon" of Italian Renaissance art and continuing to shape our ideas on the nature of artistic genius right up to the present day. But as the scholar Roberto Longhi remarked, "One needs to know how to read Vasari." Andrew Ladis's fascinating Victims and Villains in Vasari's Lives (University of North Carolina Press) demonstrates that far from being a disinterested observer, Vasari had his own agenda and entertained no qualms about distorting the facts in its pursuit. Rather arbitrarily deeming certain artists "villains" the better to glorify the great Michelangelo, Vasari related the history of Italian art as a tale "filled with drama between darkness and light, good and evil, heroism and villainy." Ladis, who died in 2007, was one of the rare academic art historians to write a fluid, elegant, jargon-free prose, and this volume is as pleasant and enjoyable to read as Vasari's own famous work.