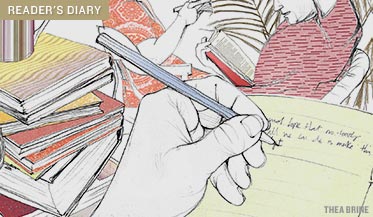 Rock Crystal

Happening upon Adalbert Stifter's 1853 novella Rock Crystal (New York Review Books) is like discovering some rare and perfect gem. Stifter's many European fans have included Thomas Mann, Hannah Arendt, and W. H. Auden, but few American readers are aware of the work of this transcendent artist, born in Bohemia (now a part of the Czech Republic) in 1805.

Rock Crystal is a deceptively simple tale. It is Christmas Eve in the high Alps: two children, Conrad and his little sister Sanna, having visited their grandparents in a neighboring valley, begin their customary walk home. But snow begins unexpectedly to fall and the children become disoriented, at length finding themselves up on the high glacier, where they must spend the freezing night. Stifter's descriptive prose presents a scene worthy of the great Romantic landscape painter Caspar David Friedrich: "As far as the eye could reach there was only ice. Pointed masses and irregular clumps thrusting up from the fearsome snow-encrusted ice. Instead of a barricade that could be surmounted, with snow beyond, as they had expected, yet other walls of ice rose from the buttress, cracked and fissured, with innumerable meandering blue veins, and beyond these walls, others like them; and beyond, others, until the falling snow blurred the distance in its veil of gray." The juxtaposition of this gigantic, impassive, and unearthly landscape with the safe domesticity of Conrad and Sanna's ordinary life is powerful, and Stifter's modest little tale raises surprisingly grand existential themes.

The Comforts of a Muddy Saturday (Isabel Dalhousie Series #5)

Alexander McCall Smith is probably best known for his No. 1 Ladies' Detective Series, with its fine descriptions of life in his native southern Africa. Less well known is his second mystery sequence, the Isabel Dalhousie series, in which he depicts Edinburgh, his home for several decades, with as much love as he has bestowed upon Precious Ramotswe's Botswana. Like his amateur detective Isabel, Smith is devoted to Old Edinburgh — "so sedate, prissy even — like a maiden aunt" — and regrets its passing.

Isabel is a gentle philosopher with a special interest in applied ethics; her musings on topics such as the difference between murder and assassination, for instance, or on whether vengeful acts are morally justified, tend to color her unusual approach to crime and punishment. As mysteries go these are pretty perfunctory, mere vehicles, really, for the atmosphere and character studies Smith finds more interesting, and a paean to the Enlightenment intellectual tradition and neoclassic elegance of the city he cherishes. Beginning with The Sunday Philosophy Club (2004), Smith has now produced five installments; his latest, The Comforts of a Muddy Saturday, appeared in September from Random House, while the previous volume, The Careful Use of Compliments, has recently become available in paperback from Anchor Books.

Mrs. Duberly's War: Journal & Letters from the Crimea

Contemporary war correspondents are expected to be "embedded" with the troops. Few in history have been more "embedded" than Mrs. Fanny Duberly, who accompanied her husband to the Crimean War and was the only officer's wife to remain there throughout that conflict (1854-56). The irreverent Fanny published her engrossing eyewitness accounts of the battles of Alma, Balaclava, and Inkerman, the doomed charge of the Light Brigade (she considered Tennyson's famous poem on the subject "rotten trash"), and the fall of Sebastopol in her Journal Kept During the Russian War (1855), a great bestseller which has never, until now, been republished.

Historian Christine Kelly has done a superb job with this edition — redubbed Mrs. Duberly's War: Journal & Letters from the Crimea (Oxford University Press) — having had the happy idea of supplementing the journal with Fanny's private and far more outspoken letters to her sister. Thus we are treated to a brutally honest assessment of the British leaders Lords Cardigan and Lucan and Sir George Brown, "three of the greatest fidgets and most pitiable old women you ever heard of," and of the way they and the commander-in-chief, Lord Raglan, conducted the war: "Ah! how have our resources been wasted! our horses killed! — our men invalided; while over it all broods the most culpable indifference." Fanny's graphic and often tragic descriptions of the dirtier aspects of war have seldom been equaled, yet the book is paradoxically infused with her zest for life, action, and even discomfort. "I dread going back ," she confided in her sister. "Fancy coming from being the only woman back into all the artificial muslin rags, conventionalities and slanders — the Fashions and the heart-grindings of English sociality — after being out here on a fresh horse, free as air, to come & go, & do what you please."

Royals and the Reich: The Princes von Hessen in Nazi Germany

Another dramatic war story is that of the German princes Philipp and Christoph von Hessen-Kassel. Nephews of Kaiser Wilhelm II and great-grandsons of Queen Victoria, these young men were courted by the Nazi regime in the 1930s and eventually became valued members of Hitler's entourage. Philipp, son-in-law of the king of Italy, became the principal liaison between Hitler and Mussolini, while Christoph headed the research office of the Reich Air Ministry.

In Royals and the Reich: The Princes von Hessen in Nazi Germany (Oxford University Press), Jonathan Petropoulos sets the Hessens' story within its proper context, that of the widespread sense of decline felt by European aristocrats between the world wars. "The overthrow and murder of the Romanovs, the end of the Hohenzollern and Habsburg empires, and the rise of social democratic parties contributed to a pessimistic and nostalgic worldview?.This nostalgia, so pervasive among members of the high aristocracy, made them more vulnerable to the blandishments of the Nazis and fascists. Nazi Germany, with its melding of the old and new elite, offered an exciting notion of 'reform' for many of these disillusioned nobles." Petropoulos researched his book with the cooperation of the Hessen brothers' sons and that of Prince Philip, the current duke of Edinburgh (Christoph's brother-in-law), but many archives — notably those of the Vatican and the houses of Windsor and Habsburg — remain frustratingly closed to scholars.

Hitler's Private Library: The Books That Shaped His Life

Of related interest is Timothy W. Ryback's Hitler's Private Library: The Books That Shaped His Life (Knopf). Hitler might have been better known for burning books than for reading them, as the author points out, but read them he did, and Ryback's examination of what remains of the F?hrer's collection (much of which is now housed in the Library of Congress) is enlightening. "For this book," he writes, "I have selected those surviving volumes that possessed either emotional or intellectual significance for Hitler, those which occupied his thoughts in his private hours and helped shape his public words and actions."

Despite Hitler's claims to have formed his principles by perusing great philosophers like Schopenhauer and Nietzsche, the evidence of his library indicates that he hardly scratched the surface of these authors, being far more deeply influenced by Johann Gottlieb Fichte, the "late eighteenth-century advocate of belligerent German nationalism," Julius Friedrich Lehmann, the "public architect of biological racism," Henry Ford's The International Jew, Alfred Rosenberg's insane Myth of the Twentieth Century, romance novels, the boys' adventure stories of Karl May, the prophecies of Nostradamus, Maximilian Riedel's Law of the World — "a dime store theory cobbled together from cheap, tendentious paperbacks and esoteric hardcovers" — and, absurdly, a self-help tome called The Art of Becoming a Speaker in Few Hours. Who could have made all this up?