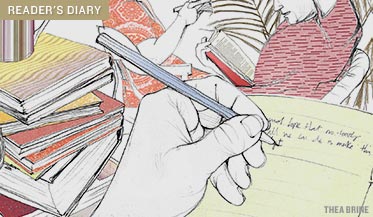 The death of Yves Saint Laurent last June plunged France into an orgy of mourning and retrospective celebration of his career. Intrigued by the coverage in Paris Match, which devoted the better part of an issue to the great man (and included a fabulous Sempé cartoon depicting his funeral cortège followed by hundreds of outrageously clad female mourners, as on a fashion runway) I picked up a book that had long tempted me and has recently appeared in paperback: Alicia Drake's The Beautiful Fall: Fashion, Genius, and Glorious Excess in 1970s Paris (Back Bay Books).

Richly satisfying, the book will hook even those like myself who have no particular interest in fashion. Drake paints the backdrop in vibrant colors — a Paris just emerging from postwar austerity "into a rip tide of wealth and theatre, color and voluptuous indulgence" — and places her two contrasting protagonists at its epicenter: Saint Laurent the frail genius, periodically descending into a nightmare of drugs, alcohol, and depression; and the hardy, workaholic Karl Lagerfeld, master of survival and self-invention. Unlike so many Anglo-Americans who write about the European scene, Drake is fully immersed in its culture and succeeds in communicating just what it was that made the ascent and apotheosis of the provincial, bon bourgeois Yves Mathieu-Saint-Laurent and Karl-Otto Lagerfeld so very unusual at that time and place.

While the 1970s was surely an era of excess and overconsumption, our own is, if anything, more so — in spite of the intervening stock market crash, the popping of the internet bubble, and the obvious environmental degradation resulting from our mass greed. Peter C. Whybrow, a neuroscientist and psychiatrist at UCLA, examines the psychological impetus behind all this in American Mania: When More Is Not Enough (now in paperback from W. W. Norton and Co.). Drawing on an explanation of our brain's reward system, Whybrow explains how "under certain contingencies it is possible to 'overload' the reward circuits of the brain, triggering craving and insatiable desire." Ironically, he points out, "we are better tuned physiologically to face the privations and dangers inherent in an unexpected terrorist attack than we are to endure the relentless propositions and stressful abundance of our consumer society."

Whybrow suggests that Americans might be genetically hardwired for impulsivity and risk-taking behavior — qualities that are both our nation's greatest asset and, potentially, its fatal flaw. "It is a paradox of progress that during affluent times the drive for material success — rooted in the ancient instincts of survival — can make us sick."

By now hooked on the subject, I picked up Sharon Zukin's Point of Purchase: How Shopping Changed American Culture (Routledge). Zukin, a sociologist, claims that shopping "defines the spiritual territory of our lives" and is ubiquitous: "very place I travel," she notes (and surely no one will disagree), "from the gift shop in the art museum to the mail-order catalogue in a hotel bedroom, urges me to buy." During the last three decades, she tells us, the amount of retail space per person in America has quadrupled.

Zukin theorizes that it is through shopping that we define, and try to embody, our ideal selves. While all these notions are intriguing, Zukin unfortunately writes in a laundry-list style and has provided what is essentially a history of shopping in America rather than a real analysis of the material. I guess I was hoping for something more in the spirit of a recent favorite, Judith Levine's brilliant Not Buying It: My Year Without Shopping (now in paperback from the Free Press), in which the author not only describes the year during which she and her husband forbore to purchase any consumer goods but also provides cogent meditations on the emotional nature of consumption. "In the end," Levine observes, "it's a matter of how you, or you collectively as a nation, define prosperity and poverty, abundance and scarcity — a question of what 'you,' the nation, the culture, desire."

Cathleen Schine's The New Yorkers (new in paperback from Picador) soothed me with a more benign view of our modern world. This is a novel inspired by the years Schine spent on a raffish Upper West Side block, one whose proximity to Central Park made it especially attractive to dog owners. "And so the street," Schine writes, "not distinguished by great beauty to begin with, was not terribly clean either. And yet, it was the loveliest street I have ever lived on. And the most interesting."

Schine's tale is deceptively simple: several lonely people on the block find friendship and sometimes even love, often abetted by their dogs. Schine's use of the language is delectable, and I found myself rereading her sentences to intensify my enjoyment of their felicitous phrasing and offhand wit. Her outlook is reminiscent of Barbara Pym's, with whom she shares an appreciation of the absurdities inherent in even the most banal exchanges and events, and her gift for seeing and catching hold of the exquisite, heartstopping beauty of everyday life sometimes brings to mind the great E. B. White.

Lore Segal's Shakespeare's Kitchen (now in paperback from the New Press) is another celebration of community, constructed around the experiences of a European refugee, Ilka Weisz, who comes to Connecticut to accept a position at a think tank called the Concordance Institute. The book is in fact a series of linked short stories, many of which first appeared in The New Yorker. "There is a theme," Segal writes: "I was thinking about our need not only for family and sexual love and friendship but for a 'set' to belong to: the circle made of friends, acquaintances, and the people one knows."

The denizens of the Concordance Institute are sometimes a little too precious, their dialogue too well-bred, articulate, and New Yorker-y. But cumulatively these stories pack an emotional wallop with their evocation not only of the joys of joining and creating a community but of the pain and sense of loss that accompany its inevitable dissolution. As in Virginia Woolf's To the Lighthouse, "Time Passes": loved ones suddenly die, friends age and change, acquaintances drift away. Segal has captured the process eloquently.