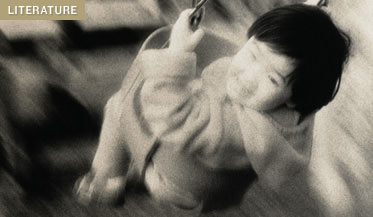 First novels tend to be transparently autobiographical coming-of-age stories that deal with the struggles of a youth — usually of the same gender as the author — as he or she searches for a place in the world. A debut effort that successfully breaks the mold is always worth having a look at, and a strong recent example of such a work is The Sister (Knopf) by Poppy Adams, an Englishwoman who has turned to fiction after a brief initial career in documentary films. It seems hardly credible that this accomplished tale can be the work of a young person, for Adams has smoothly assumed the persona of a reclusive elderly narrator, Ginny Stone.

Ginny has not seen her dynamic, worldly sister Vivi since Vivi fled the tormented family and their crumbling Victorian mansion nearly a half century earlier. Now she has unexpectedly returned, stirring up painful memories that Ginny had nearly succeeded in suppressing. Ginny is the classic unreliable narrator — there is clearly something more than a little wrong with her; but what, exactly? — and with a flair for suspense, Adams gradually reveals secrets the lonely woman has nursed for decades. The two protagonists make fine opposing characters: it is easy to imagine a future film adaptation, perhaps (one can only hope!) with Vanessa Redgrave as Vivi and Eileen Atkins as Ginny.

Another excellent first novel is Happy Family by Wendy Lee (Black Cat/Grove Atlantic), which delves into the conflicting emotions aroused in a young Chinese immigrant, Hua, when she takes a job as nanny to the Chinese-born adopted daughter of an upscale New York couple. Drawing on her own parents? tales of their early years in America, Lee describes in spare but emotionally authoritative prose Hua?s attempts to make sense of the two new worlds she inhabits simultaneously: Chinatown, where she labors in the kitchen of a greasy eatery, the Lucky Duck, and the Greenwich Village brownstone where Lily and her parents, Jane and Richard, lead what seems to her to be a charmed, almost celestial existence.

As the product of a family blown apart by Mao?s Cultural Revolution, Hua finds it impossible to suppress the ghosts of her own past. She comes to feel a devouring love for Lily, who could so easily be her own daughter or even her lost younger self, and the development of this love leads Hua to commit a rash action that threatens both Lily?s future and her own. Deceptively simple, Happy Family is in fact a serious exploration of culture shock and of the havoc great historical forces can wreak on private lives.

Culture shock can seldom have been as profound as that experienced by members of the 1860 Japanese mission to America, the first travelers to leave Japan in 250 years. With As We Saw Them: The First Japanese Embassy to the United States (Paul Dry Books), Masao Miyoshi provides a funny and sometimes appalling look at each civilization through the other?s amazed reactions. In hindsight, it is hard to imagine how exotic the two worlds then seemed to each other: hundreds of thousands of Americans lined the streets of Manhattan to catch a glimpse of the ceremonially dressed ambassadors upon their disembarkation, and the Japanese visitors were even more astonished by the "hairy barbarians" and their crude customs, likening a presidential dinner at the White House to the goings-on in an Edo restaurant "when construction laborers have their drinking bouts," and a session of the U.S. Congress to "our fishmarket at Nihonbashi."

Miyoshi records the amusing attempts made by the hierarchy-obsessed Japanese "to comprehend the republican system of kingship" and to make sense of relations between the sexes: "obscenity may be inherent in the customs and manners of the country," wrote one member of the embassy, "but the women are actually much more chaste than their appearance might suggest." The author has made use of a treasure trove of diaries kept by the visitors, including the charming brush-and-ink sketches with which they recorded unusual sights — such as the water-closet and bathroom fittings in their hotels. An eminent scholar of U.S.-Japanese relations, Miyoshi is able to draw fascinating connections between the reactions of the bygone travelers and those of present-day Japanese tourists: "the group movement, the photographic addiction at any memorable place or time, and the self-defensive posture and observation."

David Abulafia raises related questions of "first contact" experiences in The Discovery of Mankind: Atlantic Encounters in the Age of Columbus (Yale University Press). The early European explorers of the Atlantic — those who landed in the Canary Islands in 1341, in the Caribbean on Columbus?s voyages in the 1490s, and with Cabral in Brazil — discovered not just new worlds but new peoples and, by extension, new ideas about, and new definitions of, humanity: the science of anthropology was born. The first glimpses of these isolated peoples "jolted Renaissance Europe: Christians, Jews and Muslims were only part of God?s Creation. Were these new men and women Adam?s children? Did they have souls that needed to be saved, or had they been set in place simply to serve the greater cause of Christendom?" While these initial encounters quickly degenerated into one-sided exploitation, they nevertheless transformed the European understanding of the human race; their implications are still being worked out today.

The story of first contact can never have been more theatrically related than in W. H. Prescott?s classic 1843 History of the Conquest of Mexico. The fantastic nature of the mighty Aztec empire and the improbable tale of its destruction by the Spanish adventurer Hern?n Cort?s with a mere handful of his cohorts is as dramatic as anything history has to offer. Although scholarship since Prescott?s day has tended to emphasize the conquistador?s extreme brutality and his men?s mindless obliteration of a great civilization, the saga has still lost little of its allure. Prescott possessed an almost cinematic visual sense (remarkable in a man who was nearly blind!) and a master?s instinct for the intricate architecture of high Victorian prose; his descriptions of the Tezcucan golden age, the conquistadores? first sight of the magical city of Tenochtitlan, the storming of the great temple, and countless other scenes will not soon be forgotten. Along with its companion volume, The History of the Conquest of Peru, this book is one of the masterpieces of Anglo-American historical narrative, and should not be forgotten in our necessarily revisionist age.