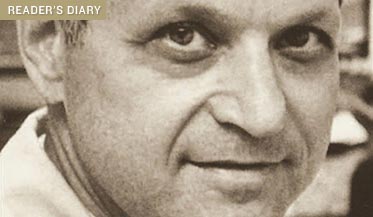 Discovering Michael Steinberg's work a decade ago helped to reawaken my long-dormant interest in classical music. Steinberg, a former music critic for The Boston Globe who has served as program annotator for the New York Philharmonic, the San Francisco Symphony, and the Boston Symphony Orchestra, brings a lifetime of erudition and experience to the challenging task of writing something that will be of value to both novices and professionals. His famous listeners' guides, The Symphony (1995) and The Concerto (1998), were characterized by a satisfying mixture of musical analysis, biography, anecdote, and conversational asides. Now a companion volume, Choral Masterworks: A Listener's Guide, is available in paperback from Oxford University Press.

Steinberg covers the familiar "greats," of course — Bach's St. John and St. Matthew passions; Beethoven's Missa Solemnis; the requiems of Brahms, Verdi, Mozart and Britten; Handel's Messiah; and Haydn's oratorios — but there are also wonderful chapters on lesser-known treasures like Luigi Dallapiccola's Canti di prigiona and Charles Wuorinen's Genesis. This is the only guide of its kind available, a surprising fact considering that choral music is the most popular and maybe the most accessible musical performance genre, engaged in and performed regularly by over 20 million Americans. It is not easy to write about music, but Steinberg appears to do so effortlessly.

So does Charles Strouse, whose Put On a Happy Face: A Broadway Memoir (Union Square Press) engagingly recounts the composer's progress from classical studies at the Eastman School of Music to Broadway fame by way of piano gigs at summer theaters, jazz dives, and even strip clubs. Strouse went on to compose hits like Bye-Bye Birdie, Golden Boy, Applause, and Annie (and cult-favorite flops like It's a Bird, It's a Plane, It's Superman) and won a string of Emmy, Grammy, and Tony Awards, yet he still seems sweetly incredulous that fat little "Buddy" Strouse could somehow have morphed into "Charles," the sought-after pop music wizard.

Full of appealing (and sometimes appalling!) anecdotes about luminaries like Sammy Davis Jr., Lauren Bacall, Cameron Mackintosh, Alan Jay Lerner, and Chita Rivera, Put On a Happy Face is also highly informative about the creative process. Strouse is at his best when describing the often agonizing birth pangs that accompany the out-of-town tryouts of a new musical (a ritual all but dead nowadays, with expenses driven so high that new shows have to open cold in New York without the benefit of a gestation period in front of an audience). These tryouts, with everyone from agent to stage doorman putting his two-cents'-worth in, have led Strouse to a conclusion "that Darwinists would surely agree with: Throughout history, the strongest drives in human beings are the seeking of food, shelter, sex, and the rewriting of someone else's musical."

Strouse's Annie launched a number of careers, but none, perhaps, has been more remarkable than that of the 19-year-old apprentice who was given the job of obtaining and training a dog for the show's original, summer-stock production. Bill Berloni found Sandy, a big, mangy mutt, on death row at a Connecticut dog pound and ransomed him for seven dollars; the rest is Broadway history.

With a rare grace, the theatrical aspirant gave in to kismet and became not an actor, as he had hoped, but an animal trainer — and not just any animal trainer but, in the words of director Mike Nichols, "The best. The one and only." Berloni, with co-writer Jim Hanrahan, movingly relates the story of his 30-year career in Broadway Tails: Heartfelt Stories of Rescued Dogs Who Became Showbiz Superstars (Lyons Press). I don't use the overworked word "inspiring" very often, but this book is just that. Berloni pioneered the humane treatment and positive-reinforcement techniques that have now become de rigeur in Hollywood and on Broadway, and whenever possible he goes to shelters and rescue facilities to adopt his animal actors, who have costarred with the likes of Richard Burton, Bernadette Peters, Sarah Jessica Parker, Marian Seldes, and Laura Bell Bundy of Legally Blonde. This richly illustrated book will make a beautiful present for anyone who loves animals and/or the theater.

The former spymaster Stella Rimington, retired director of Britain's MI5, has put her experiences to work with a series of thrillers featuring a young intelligence officer named Liz Carlyle. Rimington's experience as the real-life "M" has given her novels unusual authority, and her latest does not disappoint: Illegal Action (Knopf) takes the reader into the murky world of Russian oligarchs and their nefarious doings in London. Rimington's spies are workaday civil servants rather than figures of fantasy, and if are by no means such masters of doublethink as George Smiley or Karla, they are doubtless all the more realistic for that. Rimington's strong suit is her ability to communicate to the reader both the drudgery and the terror — often simultaneous — involved in doing intelligence work, as in this vivid description, given by one of Liz's colleagues, of what it is like to be trailed by a foreign operative: "ou feel like you have gone out on a hot day but for some reason are wearing an overcoat. Try as you may, you cannot take the coat off. If eventually you manage to, then presto, suddenly it is back over your shoulders."

Civil War enthusiasts will be greatly pleased by Martin Dugard's new book, The Training Ground: Grant, Lee, Sherman, and Davis in the Mexican War, 1846-48 (Little, Brown). It is often forgotten that many of the great generals who fought on opposing sides in the American Civil War had previously been comrades, first as West Point cadets and later in service during the Mexican War, where the young officers learned the military skills they were to put to such deadly use 20 years later. Dugard is a popular historian rather than an academic one, and he has written a readable, enlightening account of the early adventures of his band of heroes, an august company including, as well as the men listed in the title, Jackson, Longstreet, Magruder, McClellan, Beauregard, Johnston, Meade, Ewell, and their commander Winfield Scott.