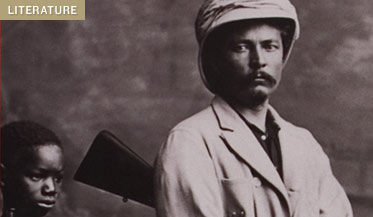 By Brooke Allen

We Americans don't like to think of ourselves as provincials, but the publishing numbers tell their own story: out of some 200,000 books published in the United States each year, only about 330 are works in translation. This is true in the Arab world too, but there they can blame government censorship and a shaky publishing infrastructure. What is our excuse, with our First Amendment rights and open society? The literary translators' group, Words Without Borders, has responded to the dearth with a fascinating anthology, provocatively entitled Literature From the 'Axis of Evil': Writing from Iran, Iraq, North Korea, and Other Enemy Nations (The New Press).

Many of the authors in this volume, such as Syria's Hanna Mina and Iraq's Fadhil Al-Azzawi, are eminent at home and widely read in Europe but completely unknown in this country. Others, young and audacious, will give American readers a startling view of whole new worlds. Tirdad Zolghadr's portrait of modern Tehran (excerpted from his novel Softcore) makes his native city look as surreal and bizarre as Fellini's Rome. Tarek Eltayeb gives us poignant insights into the beauty-starved life of a young Sudanese soldier. Only the work from North Korea — where literature functions as an arm of the state-controlled propaganda machine and all fiction and poetry is supposed to celebrate the Great Leader, Kim Il Sung — remains stubbornly opaque and impersonal.

The New Press brings us voices of unfamiliar peoples; New York Review Books, on the other hand, has reintroduced us to the work of a forgotten native son. Those who have read biographies of Henry James and Edith Wharton will recognize the name of their American-born, British-educated friend Howard Sturgis, whom Edmund White has described as "a beloved, amiable sissy who made no effort to hide his embroidery frame and the basket of silk thread he kept beside him at all times." Sturgis was a good novelist in his own right, and his Belchamber (1904), a satirical tragi-comedy of manners, is a minor masterpiece that should delight a generation of new readers.

Its hero, the Marquis of Belchamber (nicknamed "Sainty"), is a sensitive, studious, effeminate boy, fatally miscast in his role as grandee. Called on to exhibit prowess in the manly pursuits of his caste and to provide an heir for the title, the poor innocent chafes as "the slave of a cumbrous estate and an unwieldy palace" and finds himself the helpless prey of a tribe of rapacious women. Sainty's story is heartbreaking but always infused by its author with malice and irony; as E.M. Forster (whose own early works were influenced by Belchamber) observed, Sturgis was a flawless composer of "paragraphs of narrative with psychological stings in their tails."

Barry Glassner's The Gospel of Food: Why We Should Stop Worrying and Enjoy What We Eat (newly available in paperback from Harper Perennial) is a powerfully argued attack on Americans' countless illogical ideas about food. "For huge numbers of people, eating is a religion," Glassner writes; we tend to associate certain comestibles with virtue or vice, see the consumption of rich foods quite literally as sinful, and worship at what Glassner calls "the church of naught."

Glassner debunks the junk science that habitually warps our notions on the subject, reserving special ire for the marketers and advocacy groups who "shamelessly hijack science for their own opportunistic ends." He blasts contemporary pieties: frozen and canned foods, he tells us, tend to be at least as nutritious as fresh ones; pizza, containing forty-four nutrients, turns out to be a near-perfect food; products labeled "natural" are not necessarily healthier or even more natural than those that are not; the act of dieting seems in itself to cause weight gain. He reminds us that "the social status of fresh versus processed foods has shifted several times" over the decades, and mocks our contemporary obsession with specialty shops and distant markets, "places that our parents and grandparents, for equally lofty reasons, deliberately shunned." Glassner is particularly cogent and persuasive when he examines the social snobbery and class-based prejudices that have helped create so many of our id?es fixes on this unnecessarily fraught subject.

That these id?es fixes are culture-bound is demonstrated in Philip Matyszak's charming and richly instructive Ancient Rome on Five Denarii a Day (Thames and Hudson), which informs us that on gala occasions Romans liked to pamper their taste buds with dormouse farci and giant African snails stuffed into cows' udders. Matyszak has had the clever idea of showing what life was like in Rome, c. 200 AD, in the form of a modern guide book, complete with chapters on "Getting There," "Changing Money," "Out and About," "Shopping," "Entertainment," and "Useful Phrases."

The book is full of valuable information, such as how to drape a toga (who knew it was so hard?), how to tell a respectable woman from a streetwalker, and where and when to see the finest gladiatorial contests. In his chatty, accessible style Matyszak communicates a great deal not only about day-to-day life in Marcus Aurelius's Rome but about the culture itself, with all its casual brutality, naked snobbery, and ethical pragmatism.

This is work imbued with a true historical sense. Few have proved themselves more gifted in this department than Tim Jeal, author of magnificent biographies of the explorer David Livingstone, the British military hero and Boy Scout founder Lord Baden-Powell, and now the explorer and journalist Henry Morton Stanley (1841-1904). Jeal's Stanley: The Impossible Life of Africa's Greatest Explorer (Yale University Press) describes a life of almost Dickensian extravagance: his childhood in a Welsh workhouse; emigration to New Orleans and service on both sides in the American Civil War; the publicity stunt to "rescue" Dr. Livingstone at Lake Tanganyika; his subsequent international fame and career as a great African explorer — the very greatest, in Jeal's judgment.

Jeal has created a significant work of revisionism. During the postimperialist twentieth century Stanley's reputation hit bottom, largely due to his years in service to Belgium's brutal King Leopold II and the empire-building rhetoric of his own journalism. But through extensive research — the author was able to make use of a large cache of previously inaccessible Stanley papers — and a profound understanding of the manners and ethos of the late Victorian era, Jeal has delivered a moving and finally persuasive defense of this remarkable man.