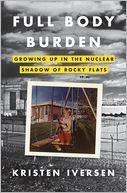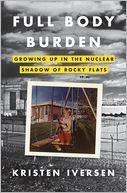 "This terrifyingly brilliant book — as perfectly crafted and meticulously assembled as the nuclear bomb triggers that lie at its core — is a savage indictment of the American strategic weapons industry, haunting in its power yet wonderfully, charmingly human as a memoir of growing up in the Atomic Age." — Simon Winchester
Dear Reader,
I was catching up with an old college pal on Sunday night, and before we got off the phone, he asked me what he should read next. Because I know he doesn't have as much time for extracuricular reading as he once did, I picked a book I new he couldn't resist: Full Body Burden. "It's a mix of A Civil Action and Refuge. With a timeline and documentation, so it's more than straight-up memoir. And your guy Winchester likes it, too." I said. (Iversen's book also has elements that will appeal to fans of The Liar's Club, which my pal hasn't read.)
Iversen's beautifully written, carefully documented — and, at times horrifying — narrative is resonating with readers around the U.S. and the world, and she shares some of the correspondence she's received with Discover Great New Writers.
Iversen writes:
"The other day I got an email from a reader who grew up in my hometown of Arvada, Colorado and now lives in Japan, where she experienced the meltdown at Fukushima. "We are all hibakusha—victims of radiation," she wrote. And indeed, as I hear from people around the country, I begin to see that so many of us have been affected by the nuclear industry. From people who live or grew up near nuclear weapons facilities or nuclear power plants, to industry workers and even officials in the Department of Energy (DOE), Full Body Burdenis really hitting a nerve—and many people are grateful that the long-secret story of Rocky Flats, and other facilities like it, is now being told. Here is just a sampling.

A local Colorado resident writes: "Like you, I was born and raised in Arvada. Your book was like reliving my childhood . . . I was diagnosed with cancer. I have always believed my cancer was from living downwind from Rocky Flats. Many of the kids from my high school class had cancer."

There were (and are) many nuclear sites similar to Rocky Flats around the country, including the Hanford site in Washington and the Savannah River Site near Atlanta. The wife of a former worker at the Savannah River Site writes, "My husband died from lung cancer at the age of 30, barely 2 months from the date of his diagnosis. Someone needs to write a book like this for the Savannah River Site. We get very little exposure or help in this area."

Finally, I received a fascinating email from a man with three engineering degrees who had served as a Captain in the U.S. Army, as the Chief of Reactor Systems in the U.S. for the DOE, and as the first Director of Risk Management for the Nuclear Regulatory Commission (NRC). He worked at Rocky Flats and also with the accidents at Three Mile Island and the Crystal River Nuclear Plant in the U.S., as well as Chernobyl and Fukushima. He writes, "On page 17 of your book I noted the sentence 'Production takes precedent over safety'. That sentence says it all." And further, "The way you integrate your life, living around and finally working at Rocky Flats with the many woes at Rocky is a work of art. It is one of the more remarkable books that I have ever read."

These kinds of stories—stories that have been kept secret or hidden or overlooked for years—are essential for us, as a culture, to hear and understand as we consider how to deal with the environmental and health legacies of our nuclear industry, and how to move forward into the future. I look forward to hearing from many more readers."
Cheers, Miwa
---

Miwa Messer is the Director of the Barnes & Noble Discover Great New Writers program, which was established in 1990 to highlight works of exceptional literary quality that might otherwise be overlooked in a crowded book marketplace. Titles chosen for the program are handpicked. by a select group of our booksellers four times a year. Click here for submission guidelines.