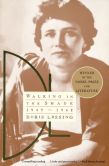 This week, we canvassed writers for their thoughts about the life and work of Nobel Laureate Doris Lessing (1919-2013), who died on November 17. The South African writer leaves behind one of the richest bodies of work in English-language literature of the last century.
Novelist Naomi Alderman, author of The Liar's Gospel, recalled a communal reading of Lessing's groundbreaking fiction:
"In 2008, I was fortunate enough to take part in The Golden Notebook project, in which a number of older and younger women read through the novel and discussed it online together (http://thegoldennotebook.org/) – it was my first Lessing. I don't know what I was expecting — an angry feminist trumpet, perhaps, and nothing could be more fun than that! What astounded me was Lessing's deep, painstaking analysis of moment-by-moment internal experience. No one else does this like her; the pulling apart of what is going on within a human mind in the space of a few seconds, the fearless, truthful portrayal of it all.
"Several years later, I'm still struck by the sense of a world cracking apart — the deep understanding that this way of thinking about individual life, that standing up for her own right to experience the world as a woman, would lead inexorably to a world which is more fragmented than the monolithic Victorian imperial one she'd inherited. Once we recognise that other people have deep experiences that are unlike our own, that the experience of being a woman is different to being a man, that black people's understanding of the world is as valid as that of white people… we lose a comforting sense of coherence, even as we gain compassion and truth. The Golden Notebook is partly about that terror; the world cracking under the feet, the coherence lost. It stands as a document of its time, even while its vivid understanding of human nature makes it a book for all time. "
Novelist Alexander Chee, the author of Edinburgh, wrote to us to suggest that, alongside The Golden Notebook, Lessing's novel The Fifth Child illuminates a contrasting, vital aspect of Lessing's genius.
"These two novels are very different experiences of Lessing. The first is a grand take on the way women's lives were changing in the second half of the 20th Century, focusing on the life of a woman writer struggling to write a second novel after the acclaim of a brilliant first one. The second is slim, chilling novel, that begins like a marriage plot and ends like a horror story.
Lessing's classic tour-de-force, The Golden Notebook, is the story of the writer's block of one Anna Wulf, a woman writer, author of a single acclaimed novel, struggling to write a second one. Anna is struggling with her sense of herself as a 'new woman', in the post-war period when new freedoms for women gave them lives with no previous models for understanding, and the novel takes us through the notebooks she is using to try to keep writing: 'a black notebook which is to do with Anna Wulf the writer; a red notebook concerned with politics; a yellow notebook, in which I make stories out of my experience; and a blue notebook which tries to be a diary.' The Golden Notebook is the last one, a final attempt to unify her thoughts, and end the compartmentalization that has disabled her.
The Fifth Child, meanwhile, is like a secular Rosemary's Baby: a seemingly monstrous fifth child is born into an otherwise very conservative family, but the child is not really the monster, here–the culture is."