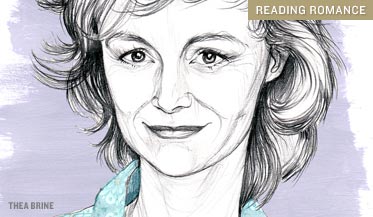 Opposites attract — as everyone knows. So why do dating services promise that the perfect match is one's mirror image? TV advertisements feature identically dressed couples, basking in each other's admiration. They certainly don't offer potential matches that your mother and close friends would despise. But in popular romance such an unacceptable liaison can be the backbone of a wonderful plot, particularly if social class is the driver of familial disdain.

Anna Campbell's Tempt the Devil pairs a prostitute, Olivia Raines, with Julian Southwood, Earl of Erith. And while one could imagine a notoriously skilled courtesan and an earl being quite happy in bed, Campbell doesn't flinch from the cruel effect of sex work on a woman's sensuality. This is a deeply felt, deeply dramatic romance that pivots around the chasm between classes, as in the moment when Erith's daughter demands that Olivia "do the honorable thing. Not that a woman like you understands honor," or when Erith loses his temper and talks to Olivia "like he'd speak to a whore," in her assessment. Campbell carefully builds a truly sweet, heartbreaking love between her two main characters and then smashes it on the shoals of class prejudice, in the moment when Olivia demands marriage. Don't miss this novel — it speaks to the wild drama of the heart, creating a love story that really does transcend class.

Campbell's characters may not be matched in class, but their personal habits are similar: i.e., they both bathe. In Jude Deveraux's The Taming, set in 1445, Liana Neville is an extremely wealthy young lady who picks a virtual barbarian as a husband. Her stepmother begs her not to marry Rogan Peregrine, swearing that he cares "nothing for dirt or lice or meat covered with maggots." A lot of romances play with this theme, presenting a man who appears to be a filthy pirate, for example, but turns out to be a quite hygienic duke. But Rogan really is an unwashed, uncaring warrior. The countryside is littered with his illegitimate children; his run-down castle is littered with maggot-covered bones — not to mention Rogan's seven prostitutes, labeled "the Days," among whom he rotates daily. Liana seduces Rogan by hard work, offering good food and clean sheets, banishing lice from the bed and the Days from the castle. When it appears that Rogan is living up to his reputation by going hawking after Liana is kidnapped, it feels like a failure not only of love but of civilization.

A modern version of the warrior barbarian shows up in Cathie Linz's Smart Girls Think Twice. Professor Emma Riley walks into a bar looking for research subjects for her latest sociological study and meets a ne'er-do-well bartender and extreme sports junkie, Jake Slayter. Jake doesn't seem to have a single value that meshes with hers: she's an intellectual; he's addicted to risk. She wears a polo shirt and drives a Prius; he has a thorny tattoo around one arm and is on a mission to find his birth mom who, unsurprisingly, turns out to be living in a trailer park. This is a charming, funny novel that lays bare our class prejudices. In the end, Jake turns out to have more of a hold on the middle class than is immediately clear, and Emma's logical side succumbs to a taste for adrenaline. Unlike The Taming, where Liana lures Rogan into the civilized life, here Emma migrates to the wild side, giving up her professorship.

A lot of the humor in Smart Girls comes from contrasting Emma's propensity for prudish clothing with Jake's characteristic black T-shirt and tattoos. Margo Maguire's Wild, a riff on Tarzan, takes the idea of a proper heroine matched to a rebellious hero a step further. Grace Hawthorne is a prim secretary to a countess when a "jungle man," Anthony Maddox, is produced as the countess's long-lost grandson. Grace wears a high collar and numerous layers of clothing (the novel is set in 1829); Anthony is most comfortable in a loincloth. Obviously, Grace isn't going home to the jungle with Anthony, so the novel revolves around Anthony's acceptance of societal manners and norms, and everything that comes along with civilization: "I am done pretending that my isolation in Ganweulu is freedom?Wherever you are is where I belong." But at the same time, a good part of the delight here comes from the way Anthony lures Grace into breaching the biggest social rules of all: not those that have to do with high collars but with what those high collars are supposed to prevent.

LaVyrle Spencer's Years is set in rural 1917 America, when a less rigid social structure ruled relations between men and women. So Spencer complicates the question of incompatible classes by making the hero considerably older than the heroine. Linnea Brandonberg is a very young lady-schoolteacher who arrives in a small prairie town with her Boston ways and her shiny, pointed, patent leather shoes. She's met by a gruff farmer in a bib, Theodore Westgaard. Theodore expects to be collecting a male teacher from the station, and he's outraged to find out that the "L.I. Brandonberg" they hired is no man: "I ain't having' no?woman livin' in my house!" Linnea is just as outraged to find that the school board sent "a garrulous old man like this to greet her." Years is a complicated, fascinating look at the ways love can knit together people whom society would categorically segregate on the grounds of class and age. Linnea scolds her husband about the unimportance of such social rules: "You have a fixation with time-clocks, years. What do they matter when there's love?… Please?count the love, not the years."

At the heart of each of these romances is a relationship that seems improbable — if not impossible — from society's point of view, whether it pairs a prostitute and a duke or a bad-tempered older farmer and a very young lady. The premise of these novels leaps far beyond the easy promises of dating companies, those that imply one's mirror image is easy to love. Here, love that's hard won is explicitly depicted as stronger than that easily attained. In each case, family and friends fight a losing battle; as Linnea's mother finally concludes, "It was difficult to argue against love."

If you'd like to discuss incompatible couples — and what really makes a "match" work — please stop in to chat with Eloisa in the Romantic Reads Book Club<>, where she'll be joined by Anna Campbell and Cathie Linz. You can check out Eloisa's past columns in the Archives<>.