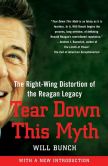 We cannot play innocents abroad in a world that's not innocent; nor can we be passive when freedom is under siege.… We must stand by all our democratic allies. And we must not break faith with those who are risking their lives — on every continent, from Afghanistan to Nicaragua — to defy Soviet-supported aggression and secure rights which have been ours from birth.
Ronald Reagan was born on this day in 1911, and on this day in 1985, in the State of the Union address (excerpted above) which began his second term in office, he delivered a first articulation of the "Reagan Doctrine." This more confrontational approach to the Soviets and to Soviet-supported governments was Reagan's attempt to make good on this comment from 1977, four years before his first term in office: "My idea of American policy toward the Soviet Union is simple, and some would say simplistic. It is this: We win and they lose. What do you think of that?"

Recent books continue to debate Reagan's legacy. The title of The New Reagan Revolution, by son Michael Reagan, echoes the call made in Reagan's 1985 State of the Union Address for a "second American Revolution of hope and opportunity…that carries beyond our shores the golden promise of human freedom in a world of peace." The title of Will Bunch's Tear Down This Myth echoes Reagan's famous "Tear down this wall" speech in Berlin in 1987, though Bunch's subtitle, "How the Reagan Legacy Has Distorted Our Politics and Haunts Our Future," shows on which side of the partisan divide he stands:
How did we get to this point in American politics? It would be easy to give all the credit to the Ronald Reagan myth machine, to the neoconservatives and tax warriors-turned-lobbyists, for trying to create one long Ronald Reagan Boulevard from sea to shining sea. But no myth would be possible without the man. And if there was ever a man who instinctively knew how to write that screenplay — who rode in from Hollywood to create a new kind of presidency that would focus on strong words and cinematic images that would last long after people forgot the policies sometimes loosely attached to them — it was Ronald Wilson Reagan.
---
Daybook is contributed by Steve King, who teaches in the English Department of Memorial University in St. John's, Newfoundland. His literary daybook began as a radio series syndicated nationally in Canada. He can be found online at todayinliterature.com.