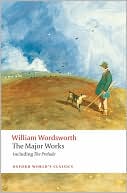 On this day in 1797 William Wordsworth and Samuel Taylor Coleridge began a walking holiday in the Quantock Hills of Somerset during which they would conceive "The Rime of the Ancient Mariner." Their original idea was to produce a gothic pot-boiler, something to suit the popular magazines, and to help pay for their vacation. "Much the greatest part of the story was Coleridge's invention," Wordsworth later wrote, though among his own contributions was the idea that the inciting incident should involve the killing of an albatross in the South Sea, for which "the tutelary Spirits of these regions take upon them to avenge the crime." Soon realizing that "the style of Coleridge and myself would not assimilate," Wordsworth left the poem in his friend's hands, where it evolved from a quick money-maker to a consuming, five-months' labor containing, say the commentators, many of Coleridge's lifelong philosophical and psychological concerns.

***
Sing me a song of a lad that is gone,
Say, could that lad be I?
Merry of soul he sailed on a day
Over the sea to Skye.

Mull was astern, Rum on the port,
Eigg on the starboard bow;
Glory of youth glowed in his soul;
Where is that glory now?


The lines above are from "Sing me a Song of a Lad that is Gone," by Robert Louis Stevenson, born on this day in 1850. Stevenson's father and ancestors were lighthouse engineers, and the poet got his early taste for the sea by tagging along on trips to the coastal villages and islands of Scotland.
The Lighthouse Stevensons
(2000), reviewed as "a real-life
Shipping News
," tells the story of the profession as practiced by four generations of the family.
***
"By all that's wonderful, it is the sea, I believe, the sea itself — or is it youth alone? Who can tell? But you here — you all had something out of life: money, love — whatever one gets on shore — and, tell me, wasn't that the best time, that time when we were young at sea; young and had nothing, on the sea that gives nothing, except hard knocks — and sometimes a chance to feel your strength — that only — what you all regret?"

—from Joseph Conrad's Youth, published on this day in 1902