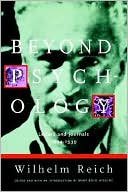 March 24: Wilhelm Reich, the radical Austrian-American psychiatrist, was born on this day in 1897. Reich's influence on mid-twentieth-century psychiatry and culture came from his "body-oriented therapy," behind which was his controversial belief, expressed in The Sexual Revolution and other books, that most of what ailed modern man could be cured by a good orgasm:
The character structure of modern man, who reproduces a six-thousand-year-old patriarchal authoritarian culture, is typified by characterological armoring against his inner nature and against the social misery which surrounds him. This characterolgical armoring of the character is the basis of isolation, indigence, craving for authority, fear of responsibility, mystic longing, sexual misery, and neurotically impotent rebelliousness.
Fame turned to notoriety when Reich claimed that his Orgone Accumulator — popularly, the Orgone Box — could meet the anticipated "biological demand for natural (orgastic) sexual gratification." Viewing the Accumulator as quackery and a social threat, the FDA and the FBI invaded Reich's 160-acre retreat and research facility in the Maine woods — "Orgonon" — and sent him to jail. He died there in 1957, just days before his parole.
Among those who bought into the Accumulator was William Burroughs. As described in the essay "My Experiences with Wilhelm Reich's Orgone Box," Burroughs went a little further than most, building on his South Texas farm a double-box, "an accumulator inside an accumulator." When combined with a smaller lap-sized accumulator, this applied to the strategic area while the patient sat within the larger double-accumulator, Burroughs felt that he had "a potent sexual tool." Apart from its no-hands efficiency, the homemade Burroughs Box apparently delivered the right kind of orgones at the right price: "There is the pleasurable orgasm, like a rising sales graph, and there is the unpleasurable orgasm, slumping ominously like the Dow Jones in 1929."
In any case, Burroughs was not alone in his belief that Reich and his invention could help "disperse the miasma of idiotic prurience and anxiety" which afflicts us, and rent the "tissue of false pride and misconception with which the human animal compulsively covers his nakedness."
---
Daybook is contributed by Steve King, who teaches in the English Department of Memorial University in St. John's, Newfoundland. His literary daybook began as a radio series syndicated nationally in Canada. He can be found online at todayinliterature.com.