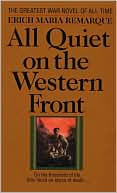 Erich Maria Remarque's All Quiet on the Western Front began newspaper serialization on this day in 1928, this a publisher's marketing ploy in advance of the book's appearance the following January. Serialization caused the newspaper's circulation numbers to triple; the book sold a million copies in its first year; and a storm of controversy swept Germany, those praising Remarque's veracity and anti-war theme challenged by those who read the book as a slander against Volk and Fatherland. The most militant voices among the latter group belonged to the National Socialist Party; when the Nazis staged their infamous book-burning ceremony in Berlin on May 10, 1933, All Quiet on the Western Front was tossed into the pyre with fanfare: "As a protest against the literary betrayal of the soldiers of the Great War, and on behalf of the education of our people in the spirit of truth, I consign to the flames the writings of Erich Maria Remarque…."

The Nazis should have kept one copy of the novel back for reference, suggests the following excerpt from Christine R. Barker and R. W. Last's Introduction to All Quiet on the Western Front (Wolff Publishing, 1979):
In 1936, the National Socialist newspaper Völkischer Beobachtermade this proud announcement to its readers:

After all the lies told by people like Remarque, we now bring to you the experience of a soldier who took part in the war, of which you will say at once: that is what it was really like.

There then follows an extract from an account of life at the front which, on closer examination, turns out to be nothing other than part of Remarque's All Quiet on the Western Front (presumably sent in anonymously by a third party), and this really was heaping insult on injury, since Joseph Goebbels's The Attack [his Nazi newspaper] had already been similarly duped into printing a "genuine tale from the front line" at the height of his anti-Remarque campaign, which had also turned out to have been culled from the pages of All Quiet on the Western Front.
---
Daybook is contributed by Steve King, who teaches in the English Department of Memorial University in St. John's, Newfoundland. His literary daybook began as a radio series syndicated nationally in Canada. He can be found online at todayinliterature.com.