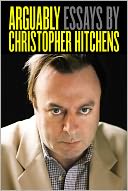 The literary world grapples with an enormous loss today: Journalist, author, and provocateur Christopher Hitchens has died of pneumonia, arising from esophageal cancer. His death was announced by Vanity Fair, where he had been a contributing editor since 1992.
His reputation was built on his eloquence, his delight in putting entrenched opinions to challenge, and his eager assumption of Orwell's mantle as a defender of truth against ideological distortion. His impact as a stylist — Hitchens wielded both a deadly wit and an implacable sense of joy in literary combat — was as large on his fellow writers as his politically unclassifiable positions (he defended atheism as fiercely as he did the War in Iraq) have been on the surrounding culture.
The New Yorker has posted Christopher Buckley's moving tribute to his close friend at their website (they've also made available Ian Parker's 2006 portrait of the writer).
In his last essay for Vanity Fair, Hitchens turned his own pitiless dedication to truth-telling upon his own confrontation with cancer:
"[O]ne thing that grave illness does is to make you examine familiar principles and seemingly reliable sayings. And there's one that I find I am not saying with quite the same conviction as I once used to: In particular, I have slightly stopped issuing the announcement that 'Whatever doesn't kill me makes me stronger.' …In fact, I now sometimes wonder why I ever thought it profound."
Hitchens was not only among the most celebrated and influential essayists of our time: he was also among the most prolific. You can get a taste of his magazine work by viewing the tribute pages on Vanity Fair's website and at Slate. A list of his book-length work, including his bestselling memoir Hitch-22, can be found here.
-The Editors