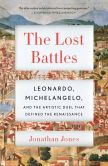 Michelangelo was born on this day in 1475. According to Jonathan Jones in The Lost Battles, Michelangelo's iconic contributions to the Italian High Renaissance are a direct result of his "savage, merciless rivalry" with Leonardo da Vinci, even of a specific "artistic duel" in 1503. This showdown was contrived by the Florentine head of state, Piero Soderini, who commissioned both men to paint historical murals for the Great Council Hall of the Palazzo Vecchio, the winner to be recognized as "the greatest artist in the world." The paint-off became, says Jones, a battle for the ages:
It was a spectacle that drew artists from all over Italy and beyond to admire the heights of ingenuity to which Leonardo and Michelangelo were driven by their rivalry. Out of it came a new idea of "genius" — of the artist as an enigmatic original — in which we still believe today. It was in this competition that artists were first fully and openly recognized, not as artisans doing a job of work, but as godlike creators of the new.… The self striving for fulfillment is a Renaissance concept that still describes our lives. There is no clearer evidence of its genesis than the contest between Leonardo and Michelangelo.
---
Daybook is contributed by Steve King, who teaches in the English Department of Memorial University in St. John's, Newfoundland. His literary daybook began as a radio series syndicated nationally in Canada. He can be found online at todayinliterature.com.