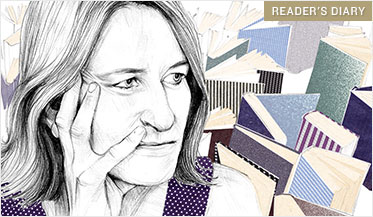 Revolutionary Road and A Good School

The success of the Sam Mendes film Revolutionary Road ought to inspire a new generation of readers to seek out the work of Richard Yates (1926–92), author of the novel on which the movie was based. A friend of mine, a former arts editor at the New York Sun, recently pressed Revolutionary Road on me along with a lesser-known Yates novel, A Good School. I was ashamed to admit that I had not only never read Yates but had never even heard of him — especially ashamed after discovering that he was revered by a wide spectrum of his contemporaries, including Tennessee Williams, Kurt Vonnegut (who called Revolutionary Road "the Great Gatsby of my time"), Raymond Carver, William Styron, André Dubus, and Richard Ford.

Published in 1961, Revolutionary Road exposes not only the American suburb as wasteland — which, after all, has become a cultural commonplace between Yates's time and our own — but also, with excruciating cruelty, all the self-serving little fictions behind which human beings conceal their fears and inadequacies. His protagonists, Frank and April Wheeler, are an attractive young couple who see their residence in a bland Connecticut suburb as a mere temporary expedient; clearly they are above the suburban herd and will soon, without a doubt, segue into the creative, fulfilled lives they were meant to lead — preferably in fabled bohemian Paris.

But they are trapped: not by financial necessity but by their own weaknesses, and by the growing, never-to-be-admitted suspicion that there might be no rich inner selves there for them to find. Yates's pitiless dissection of his characters' all-consuming egos and the theatrical role playing with which they interact leaves no corner of their inadequate personalities concealed. Revolutionary Road manages to be tragic in spite of the pettiness of its protagonists, largely because we see Frank and April dooming their helpless children to futures as grim as their own.

A Good School, which appeared 17 years after Revolutionary Road, is Yates's sunniest novel, though it is certainly not without its bleak moments. Robert Driscoll, a master at Dorset Academy in Connecticut, often assures himself that he works at a good school; "even so, there was a nagging qualification: if only it were more like a real school. And almost everyone else here seemed to carry that sense of inauthenticity around with them — the faculty, the boys — you could see it in their faces." The architecture is phony-Cotswold, the curriculum pretentiously anglophile; the boys, like boys everywhere, arrange themselves into a hierarchy based on social class and athletic prowess. Misfits are energetically persecuted.

Yates is no easier on the boys than he is on the second-rate institution and the mostly second-rate teachers, for they are stunningly self-involved. No tears are wasted on sensitive young souls here. Still, the spirit of the novel is affectionate. Considering his three years at Dorset, the adult narrator reflects that "in ways still important to me it was a good school. It saw me through the worst of my adolescence, as few other schools would have done, and it taught me the rudiments of my trade." Perhaps it is this uncharacteristically gentle note that made some critics take against A Good School upon its publication, for they had come to look to Yates for darker stuff. In fact, playing against the reader's expectations, the tone works brilliantly.

Edward Carpenter: A Life of Liberty and Love

Readers with an interest in early-20th-century literature and biography will probably be familiar with the name of Edward Carpenter, the gay socialist writer whose forward-looking ideas influenced countless authors and thinkers of that period, including E. M. Forster, George Bernard Shaw, Siegfried Sassoon, and Havelock Ellis. Now the English historian Sheila Rowbotham has produced a major biography of the social prophet, Edward Carpenter: A Life of Liberty and Love (Verso). Carpenter's "political and intellectual trajectory," Rowbotham comments, "reads like a roller-coaster ride through the highways and byways of late nineteenth-century and early twentieth-century thought and activism."

Today Carpenter is primarily known as a pioneer sex reformer, but in his day he was a wide-ranging theorist who consciously defied classification, an early advocate of free love, recycling, grow-your-own, the simple life, nudism, clean air, prison reform, women's suffrage, animal rights, and Eastern mysticism. Years after his death, E. M. Forster conjectured whether the reason Carpenter's reputation had waned was because so many of his proposals and attitudes, outlandish during the late Victorian era, eventually passed into "common stock." It seems a reasonable explanation, for Carpenter's ideas now permeate our culture. "The spiritual," he wrote, "must have the material to give it body; the material has no meaning without the spiritual."

The Dynamite Club

Carpenter professed a gentle anarchism. A more violent variety was espoused by Emile Henry, a young Frenchman whose strange career is chronicled in John Merriman's The Dynamite Club: How a Bombing in Fin-de-Siècle Paris Ignited the Age of Modern Terror (Houghton Mifflin). Henry was one of the many intellectuals of his day who was distressed by the shocking social inequalities of the Belle Epoque: the upper class, he said, "has appropriated everything, robbing the other classes not just of the sustenance of the body but also of the sustenance of the mind." Driven by these injustices the anarchist philosophy, with its aim of destroying the corrupt social structure so that a new, pure one could grow up in its place, swept radical Europe and America: a tsar of Russia, an empress of Austria, a prime minister of Spain, a president of France, a king of Italy, and President McKinley of the United States all fell victim to anarchist assassins in the years between 1881 and 1901.

Merriman paints a fascinating picture of the anarchist underworld, giving real-life background to a milieu made famous by novels such as Joseph Conrad's The Secret Agent and G. K. Chesterton's The Man Who Was Thursday. Emile Henry's detonation of a bomb in Paris's Café Terminus, next to the Gare St. Lazare, resulted in one person dead and 20 injured. What made his crime new and chilling was that he was the first of the anarchists, Merriman says, to attack innocent men and women, thus ushering in our own age of terror. "This time the target was not the government or one of its officials or representatives, or a public monument, or the office or house of a wealthy financier or captain of industry, but rather ordinary people having a beer and listening to music in a café."

Music Quickens Time

One man who has sought to combat terrorism and the political and social inequities that ignite it is the pianist and conductor Daniel Barenboim, who holds dual Israeli and Palestinian citizenship. In 1999 he and his friend, the late Edward Said, founded the West-Eastern Divan Orchestra, a youth orchestra based in Spain and consisting of musicians from all over the Middle East: Israel, Palestine, Egypt, Syria, Lebanon, Jordan. In his newest book, Music Quickens Time (Verso), Barenboim discusses the way music has influenced not only his personal philosophy but his thoughts on international understanding as well. "The art of playing music is the art of simultaneous playing and listening, one enhancing the other?.This dialogical quality inherent in music was our main reason for forming the orchestra." Barenboim deems the education of the ear, so neglected in most school curricula, to be possibly the most important gift we can offer young people. Musical education, he posits, might "form human beings more apt to listen to and understand several points of view at once, more able to judge their own place in society and in history, and more likely to apprehend the similarities between all people rather than the differences between them." Music Quickens Time is an eloquent distillation of Barenboim's experiences and ideas.