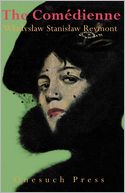 Wladyslaw Reymont, one of Poland's most famous nineteenth-century novelists, was born on this day in 1867. Reymont's best novels have been compared to the work of Thomas Hardy and Emile Zola, and in 1924, the year of his death, Reymont won the Nobel Prize over Hardy (nominated again that year, as he was almost every year over his last two decades). Too ill to travel to Stockholm, Reymont submitted an autobiographical summary to the Nobel committee. This describes his years in a theatrical troupe — inspiration for his novel The Comedienne — and his impoverished, itinerant apprenticeship as a writer, working in factories or on the railway and throwing draft after draft into the fire, this at least helping him to keep warm:
For a while I had a roof over my head, literally a piece of dry bread, and quiet. I was surrounded by impenetrable forests in which the Czar of all Russians hunted every year…. I lived on tea, bread, and dreams. I was twenty-two-years-old. I was healthy, had only one suit, and boots with holes in them. I had faith in the world and a thousand bold projects in my mind. I wrote feverishly: dramas in ten acts, novels without end, stories in several volumes, poems. Then I tore up everything mercilessly and burned it…. I wrote wrapped in a fur, keeping the inkwell under the lamp lest the ink should freeze.
The Peasants, Reymont's epic of rural Polish life, was published in 1904 in four volumes, each of these named after a season. The story is told in peasant dialect, and like Hardy's Wessex novels, it documents the passing of a way of life in the face of inexorable industrialization:
There fell enormous pine-trees, green with the moss of age; and firs, arrayed in their dark verdure, and spruces with their many outspread arms; oak-trees, too, fell, with dry russet leaves still upon them, and overgrown with gray lichens as with beards — ancients of the forest that the thunderbolt would not blast, and the lapses of centuries had failed to crumble, now succumbed to the axe!
One of Reymont's novels has an intriguing connection to George Orwell. Published two decades before Animal Farm, Reymont's Revolt is a satire of Bolshevik politics in which farm animals take over from their humans, introducing many reforms for equality but then degenerating into power grabs and tyranny.
---
Daybook is contributed by Steve King, who teaches in the English Department of Memorial University in St. John's, Newfoundland. His literary daybook began as a radio series syndicated nationally in Canada. He can be found online at todayinliterature.com.