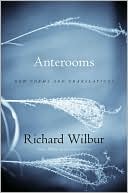 Richard Wilbur turns ninety-one today. Wilbur is a two-time Pulitzer winner, a respected translator, and a Poet Laureate with a range that includes children's books — two on rhyming "Opposites" ("What is the opposite of riot? It's lots of people keeping quiet") and The Disappearing Alphabet:
What if there were no letter A?
Cows would eat HY instead of HAY.
What's HY? It's an unheard-of diet,
And cows are happy not to try it.

In the word DUMB the letter B is mute,
But elsewhere its importance is acute.
If it were absent, say, from BAT and BALL,
There'd be no big or little leagues at all.
Wilbur's latest collection, Anterooms (2010), contains mostly adult (and sometimes dark) poems, though "Some Words Inside Words" is described as "for children and others":
In every ice cube there's a cub, and so
It sometimes happens that a cub will grow
Inside the freezer of a Frigidaire,
Until it is a full-sized polar bear.
What happens then? Well, opening the door,
It steps into the kitchen with a roar
And lumbers through the house, fierce, white and fat,
Turning down every single thermostat
Wilbur also continues to teach poetry at his alma mater, Amherst College, in Emily Dickinson's hometown. Dickinson published "Safe in their alabaster chambers," the second of the handful of poems that appeared in her lifetime, 150 years ago today. In his poem "Altitudes," Wilbur recalls the cupola which Dickinson's father added to the family home, imagining Dickinson not just climbing "Up to the little cupola with its clear / Small panes, its room for one," but becoming it:
This chamber furnished only with the sun
Is she and she alone,
A mood to which she rises, in which she sees
Bird-choristers in all the trees
And a wild shining of the pure unknown….
---
Daybook is contributed by Steve King, who teaches in the English Department of Memorial University in St. John's, Newfoundland. His literary daybook began as a radio series syndicated nationally in Canada. He can be found online at todayinliterature.com.