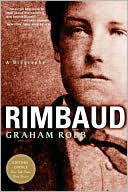 On this day in 1873 Paul Verlaine shot Arthur Rimbaud in a Brussels hotel, wounding him in the arm. Their short relationship was in such sexual, emotional, financial, and absinthe-fueled confusion that no specific motive seems relevant, but the Belgian courts were determined to convict Verlaine of assault and gave him the maximum two-year sentence. Rimbaud's attempts to testify on Verlaine's behalf, and then to withdraw charges, were ignored, and even the police reports suggest that, for literary or lifestyle reasons, everyone would have been happier if the lovers' quarrel had finished off both poets:
In morality and talent, this Raimbaud [sic], aged between 15 and 16, was and is a monster. He can construct poems like no one else, but his works are completely incomprehensible and repulsive.
While in prison, Verlaine completed and published Songs Without Words, a collection that didn't sell a single copy when first published in 1874 but was seen as revolutionary within a decade. Rimbaud published A Season in Hell, his only book, in the same year, and promptly gave up on both literature and Europe. By the mid-1880s, as the French Decadents were hailing him as their "Messiah," Rimbaud was gun-running in Africa; by 1891 he was dead, aged thirty-seven and already a legend.

Disaster Was My God, Bruce Duffy's 2011 novel based on Rimbaud's "Outlaw Life," takes its title from a seemingly prescient passage in A Season in Hell: "I called to my executioners to let me bite the ends of their guns, as I died. I called to all plagues to stifle me with sand and blood. Disaster was my god." The disaster, as Rimbaud's mother saw it, was the posthumous fame that followed, even to her doorstep, the scandal-driven life of her son:
Fame: for the old woman this was the true plague, his would-be acolytes and the curious now descending on her with their impertinent questions. Scruffy littérateurs and journalists. Threadbare poets. Pince-nez professors and similar busybodies from Paris, Bordeaux, London, Brussels. All knocking on her door. Accosting her on her street. Shocked that he, their god, could have sprung from such as her. And all with the same idiotic questions:

But why did he stop writing?
Did he stop? But how could he just…stop writing?
And why to Africa?
And did he not return with manuscripts?
And you are quite sure, Madame, there are no other manuscripts? Hmmm?
---
Daybook is contributed by Steve King, who teaches in the English Department of Memorial University in St. John's, Newfoundland. His literary daybook began as a radio series syndicated nationally in Canada. He can be found online at todayinliterature.com.