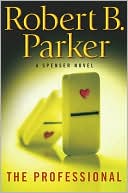 According to his U.K. publisher, Robert B. Parker, the beloved mystery author, has died, "just sitting at his desk." The creator of the long-running Spenser private eye series (among other bestselling mysteries), Parker kicked off his career as a novelist after completing a 1970 dissertation on the works of the writers who proved to be his literary forbears — Hammett, Chandler, and Macdonald.
At 72, Parker was still going strong, producing three novels a year; the reported scene of his death at his death has an appropriate, if sad Dickensian echo.
BN Review columnist Sarah Weinman has more at her blog.
-BILL TIPPER