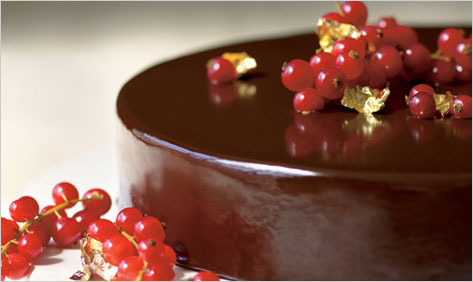 It's been 21 years since Rose Levy Beranbaum published The Cake Bible. With its meticulous instructions, measurements provided in both volume and weight, and detailed explanations of culinary chemistry, Beranbaum's Bible ratcheted up home baking from cozy Fannie Farmer and the quick and easy mix mentality to near professional levels with such extravagant eye-poppers as The Enchanted Forest—a chocolate ganache-filled sponge roll studded with cocoa meringue sticks.

Why this sequel? One may think there are only so many iterations of flour, butter, sugar, and eggs, but there'll never be a last word in baking. Bakers, like the rest of us, are always looking for the next new thing.

The recipes in Rose's Heavenly Cakes are a bit less fancy and buttercream-dependant than those in The Cake Bible, but no less tempting. There are confections with longer shelf lives, including a delicious, delicate Orange-Glow Chiffon Cake, and the spectacular Deep Chocolate Passion Wedding Cake, a multi-day project that features her new ultra-shiny chocolate lacquer glaze (made with gelatin).

Several recipes are moistened with a syrup infusion after baking. These include English Gingerbread, rare for its inclusion of whole wheat flour, and an invitingly simple Lemon Poppy Seed-Sour Cream Bundt cake. Beranbaum has figured out how to keep the crumb topping crisp on her perfect Apple-Cinnamon Crumb Coffee Cake—by letting the cake set before sprinkling it with a topping made with melted butter.

Although Beranbaum has included more cakes made with oil (as opposed to just butter) and now specifies the percentage of cacao in each chocolate, she's unswayed by recent dietary trends toward whole grains or sugar substitutes such as agave nectar. In fact, one of the few things she doesn't explain in this irresistible collection is her adamant preference for bleached white flour—but no doubt it's chemical.