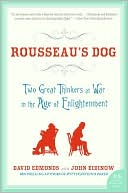 Jean-Jacques Rousseau was born this day in 1712. His tercentenary is being marked by symposia around the world, these fueled by Rousseau's range of work in music, botany, education, and fiction, as well as his contentious religious and sociopolitical writing. Rousseau's personality will also get attention, one of the topics discussed at a tercentenary conference in England titled "A Difficult Relationship: Rousseau and His Contemporaries." The English venue is suitable, given that one of the most famous episodes in Rousseau's stormy personal life involves his desperate flight to England and, despite the threat of imprisonment on the Continent, his equally desperate flight back.

Rousseau's seventeen-month stay in England, hosted by David Hume, gets a chapter in any biography of either man and gets full book treatment in David Edmonds and John Eidinow's Rousseau's Dog (2006). Sultan, the dog in question, is more than metaphorical — he indeed accompanied Rousseau to England, causing Hume to headshake, "His affection for that creature is above all expression or conception" — but Edmonds and Eidinow make clear that what was "forever growling at [Rousseau's] heels was the writer's deeply rooted belief that the world was hostile and treacherous, ready at any moment to betray him."

Shepherded through a cold and stormy Channel crossing in January 1766, the grateful Rousseau "covered Hume's face with kisses and tears" when the two arrived at Dover. But by spring Rousseau's letters to friends back home confide a suspicion that Hume had mounted some conspiracy against him, and by the end of June Rousseau had sent the astonished (and innocent) Hume "the last letter you will receive from me":
Touched by your generosity, I threw myself in your arms; you brought me to England, apparently to procure a refuge for me, and in reality to dishonor me. You applied yourself to this noble endeavor with a zeal worthy of your heart and with an art worthy of your talents. Success did not require great effort; you live in the grand world, and I in retirement; the public love to be taken in and you are made for deceit….
For Hume, known widely as le bon David for his warmth and friendliness, this was final proof that Rousseau was "plainly mad, after having been maddish." Hume acted quickly to preserve his reputation, and the two Enlightenment stars had a prolonged and public falling-out, raising eyebrows or smiles across Europe.
---
Daybook is contributed by Steve King, who teaches in the English Department of Memorial University in St. John's, Newfoundland. His literary daybook began as a radio series syndicated nationally in Canada. He can be found online at todayinliterature.com.