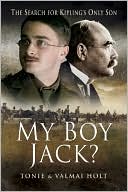 December 30: Rudyard Kipling was born in Bombay on this day in1856. Although one of England's most popular writers at the turn of thecentury, and a Nobel winner in 1907, by the time of his death in 1936 Kiplingwas not merely forgotten but scorned. To the intellectuals and political Lefthe was a dinosaur of Empire; to the modernist writers and the literati he was amere tale-teller and balladeer. Unsurprisingly, the literary world that hadflocked to Thomas Hardy's interment in Westminster Abbey eight years earlier stayedaway in droves when Kipling was placed beside him.
More recent biographersand critics have made a case for regarding at least the later Kipling as a morecomplex man and writer than given credit. One view is that, if Kipling's styleand themes evolved, the cause may have been personal tragedy. His only son,Jack, was killed in action in WWI—still a teenager, and on his first day ofcombat, last heard shouting "Come on, boys!" to his command. As toldin Toni and Valmai Holt's recent My Boy Jack? a double biography offather and son, the details and aftermath of Jack's death make, at the least, apoignant story.
Declared "missing inaction" in 1915, Jack's body was lost in the No Man's Land of Loos, Francefor years, and then his unidentified remains were buried in a grave marked "ANUNKNOWN LIEUTENANT OF THE IRISH GUARDS." In 1919, having finally acceptedthe fact of his son's death, Kipling began searching for the body. He touredmany military graveyards in France, and one time even visited the "UNKNOWNLIEUTENANT" gravesite, not knowing it was his son's. This was determinedin 1992, and confirmed in 2002, though the authors of My Boy Jack? saythat questions remain. In any case, Kipling carried to his own grave a measureof guilt for having used his influence to get Jack a commission when he wasbarely eighteen, and for having instilled in him a zeal for battle.
Kipling between the warswas no pacifist, but one of his later stories, "The Gardener," tellsof a tormented parent seeking for the grave of her son, fallen in action, andfor redemption.
---
Daybook is contributed by Steve King, who teaches in the English Department of Memorial University in St. John's, Newfoundland. His literary daybook began as a radio series syndicated nationally in Canada. He can be found online at todayinliterature.com.