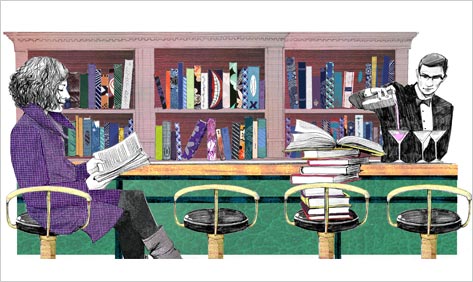 Rufus Rumpwhistle, who believed himself, probably rightly, to be the most forgettable writer in English, died on Monday in his apartment on Manhattan's Upper West Side, where he had lived in semi-seclusion for many years, emerging only to buy lottery tickets in odd-numbered months. He was 98.
The cause of death was not immediately apparent. "To tell the truth, he was a terrible hypochondriac, always complaining about something," said a nephew, Ralph Firkin. "I think he died to prove a point. He left a message on his answering machine that said: 'Rufus is no longer at this number. I told you I wasn't feeling well.'"
Mr. Rumpwhistle was the author of works, now out of print and never very good to begin with, like "Micturition: An Ode"; "Flagisto: or, A Taste of the Lash"; and "The Goatherd's Roundelay". The critic George Steiner said of his writing: "It was of a singular, monitory badness, a testamentary badness, a badness so profound it raised the essential, necessary doubt, the doubt every writer must ask himself, must wrestle with, in the dark night, the penumbrous shadow hours, of the soul: is all writing, however good, doomed by its very nature to fail? Now, this very writer, this — what did you say his name was?"
Nigel Rufus Fotheringill Rumpwhistle, the eldest of seven children, was born in Hamme-on-Wye, in Wessex, England, on April 1, 1914. His legal father, who later denied that Rufus was his offspring, was a flenser; his mother was the village scold. He was tutored at home and then briefly attended Dotheboys Hall, a boarding school in Yorkshire, where he was frequently flogged for bedwetting. This was doubtless the inspiration for "Flagisto", a long prose work in praise of corporal punishment, and may have influenced the composition of "Micturation" as well. As the scholar Dwight Culler once pointed out, that poem exists in two early manuscript versions, one beginning, "Ahhhh!" and the other, "Ooops!"
Mr. Rumpwhistle was unable to get into university, but nevertheless lived in Cambridge for several years, renting a bed-sit and pretending to be an undergraduate. He would sometimes lock himself out on purpose and then climb the drainpipe in cover of darkness. It was around this time that he began publishing — on lavatory walls and the sides of bus shelters. Among his earliest works were "Rufus Wuz Here" (1935) and "For a Good Time Call Rufus" (1936).
During the Second World War, Mr. Rumpwhistle was several times turned down by the British armed services, and moved to the United States, hoping to enlist there. Instead, he was threatened with deportation and began a long period of living underground. After the war, he tried to befriend the Beats, including Jack Kerouac, with whom he claimed to have shared a bar of soap. When asked about this incident, Kerouac said, "What? Who?"
Unable to find a publisher for "The Goatherd's Roundelay", a pastoral prose poem depicting the pleasures of pulling the beards of billies, he decided he was insufficiently well-known and, determined to attract publicity, spent many hours at the Cedar Tavern trying to provoke a quarrel. On one occasion he set fire to Larry Rivers' shoelaces, but Rivers was too drunk to notice. That same night, he threw a drink at Ernest Hemingway but was wide of the target. The drink instead doused Rivers' flaming shoelaces, so both stunts were in vain.
Mr. Rumpwhistle never officially wed and had no children, but for several years enjoyed what he called a common-law marriage with himself. This ended in acrimony in 1999, when he discovered from his phone bill that he had been making calls to women he didn't know, and thereafter he refused to speak to himself. He communicated only by notes, and these are almost certainly his last writings. Several were found in the apartment, according to Mr. Firkin, the nephew, including one that said:
"Ear drops, Double-A batteries, plumber's helper.

"Do crossword, improve posture.

"Windex.

"I know what you're thinking about, and the answer is still no."
Charles McGrath, former Deputy Editor of The New Yorker and Editor of the New York Times Book Review, is Writer-at-Large for the Times.