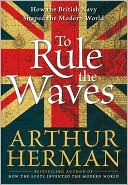 August 2: On this day in 1740, James Thomson's Alfred the Great was first performed. The masque's premiere was a birthday present for Princess Augusta, though the occasion must have demanded the four-year-old's very best manners given that others present found the play's history and didactics to require a "great labour of the brain." The music would have helped: amid the lessons on Alfred's greatness and the visions of future glory were seven songs, one of which, "Rule, Britannia!" became immediately and enduringly popular. In subsequent revisions and adaptations of Alfred by Thomson's co-writer, David Mallet, and composer Thomas Arne, only this one air was left untouched, and it now has the status of Britain's unofficial national anthem:
When Britain first at Heaven's command

Arose from out the azure main,

This was the charter of her land,

And guardian angels sung the strain:

Rule, Britannia! Britannia rules the waves!

Britons never shall be slaves!
In Thomson's day the waves in question were those surrounding Central and South America; the slaves, those which both Spain and England wished to market to the New World. Their chronic battle for naval commerce and power had reached one of its acute phases the year before Alfred. This was the so-called War of Jenkins' Ear, fanned to flame when Captain Jenkins displayed his bottled ear, reputedly severed by a Spanish sword, before Parliament. But "Rule Britannia!" sounded long after Jenkins' Ear, as inspiration for British naval superiority and the imperial expansion that went with it.
The naval battles and the British Empire are over, but "Rule, Britannia!" still rules at the Proms—Promenade Concerts, sponsored by the BBC—regarded as the most popular performance series in the history of classical music, now in its 115th season. The summer-long events culminate in the Last Night of the Proms concert, and one of its most enthusiastic moments, coming at the end of a "Fantasia on British Sea Songs," is the audience's singing of "Rule, Britannia!" The only other rival for highlight of the evening also has a literary origin—Blake's prefatory lines to his poem Milton, transformed into the rousing hymn "Jerusalem":
…Bring me my Bow of burning gold;

Bring me my Arrows of desire:

Bring me my Spear: O clouds unfold!

Bring me my Chariot of fire!…
---
Daybook is contributed by Steve King, who teaches in the English Department of Memorial University in St. John's, Newfoundland. His literary daybook began as a radio series syndicated nationally in Canada. He can be found online at todayinliterature.com.