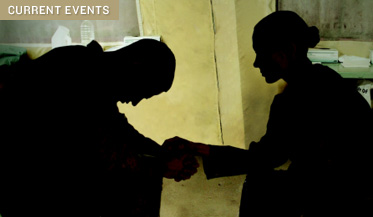 The Marines, Dr. Heidi Squier Kraft tells us, "needed to cry." In this memoir from a Navy clinical psychologist about her deployment at an air base in Iraq, tears fall often and copiously throughout:

"Tears flooded my eyes."?"I fought at the time to hold back tears."?"And then the tears came."?"Tears welled in my eyes." ?"I did not have another mom out here with whom I could take turns crying."

At first all these tears seem ready to drown the real subject of the book. They tell us about the symptoms of grief rather than showing enough about the events and details that gave rise to it. But at some point in Dr. Kraft's account of her seven months treating soldiers in this chaotic environment, the reader begins to understand the eloquence of the writer's very lack of eloquence about what she went through. Then the tears become increasingly powerful, in their helpless testimony to the emotional and physical extremes of war — especially this war, which is such a dreadful and wasteful mistake, in the opinion of so many Americans.

The details, moreover, eventually add up in their numerous specificity. We see a Marine blown to pieces whose head arrives at the base in a bag after his body is brought in; an unconscious soldier who fell on a bomb to protect his buddies and who begins to show signs of life by squeezing Dr. Kraft's hand; a colonel who loses his emotional composure in front of his men; vampire bats swooping around the base in the black of night; and a schizophrenic Marine who trains his weapon on Dr.Kraft. Such portraits turn the book into something like the drama one might expect it to be, and more than just a series of lamentations and paeans to our fighting men.

Dr. Kraft, in her early 30s, and her husband — a Marine Corps fighter pilot for 11 years — had twins, a boy and a girl, a little more than a year before her deployment to Al Asad air base, a surgical unit 180 miles east of Baghdad. So her dislocation was no doubt even more severe than that of most soldiers dispatched to this desert theater of despair and desolation. She missed her children's first steps, minor surgery for her son's ear infections, and many other such milestones, and the emails among her and her family and friends, while unremarkable as writing, are wrenching in that unremarkableness. From a friend: "I know this is the most difficult thing you've ever done. I also know a part of you is dying inside, as the days of your children's lives go on without you." From her father, about a thunderstorm: "The trees were bent over; the street was overflowing, even with those big culverts you have. Your mom and I assumed our usual places out on the lanai with the twins to enjoy the show."

And what she faces in her work, while conveyed in workmanlike prose — no literary match for Michael Herr's Dispatches, for example, or the Iraq reporting of Jon Lee Anderson — is equally severe. It seems that she and her team mainly tried to counsel and comfort wounded and traumatized soldiers at Al Asad as they awaited medical evacuation to more fully equipped and staffed facilities. ("Seems," because Dr. Kraft tends to impart such information indirectly; she doesn't quite have the knack of telling her story in a structurally forceful and clear way.) There were four of them — Dr. Kraft, who was trained as a cognitive behavioral therapist, a psychiatrist, and two psychiatric technicians — for all 10,000 American soldiers in western Iraq. Theirs was a medical and psychological holding action at best. Helicopters with wounded Marines would fly in, apparently almost every day, and Dr. Kraft's group would provide them what psychological care they could. As one might guess, this care consisted mainly of reassurance and company and listening and drawing stories out from men who had trouble telling them. The title itself underscores the gap between her resources and the level of trauma she faced: after an arduous session with a group of traumatized Seabees, she reminds a colleague of a famous speech from the television series M*A*S*H, in which Hawkeye is told, "here are two rules of war. Rule number one is that young men die. Rule number two is that doctors can't change number one."

The admiration and sympathy Dr. Kraft formed for these men and women, and for her colleagues, typifies the kind of intense and spontaneous bonding that takes place among groups thrown together into dire straits. The author repeatedly refers to her pride in what she's doing, her high regard for the many "heroes" she meets, her gratitude for and debt to those she worked with. Like the shedding of tears, these tributes verge on being overdone. But also like the tears, and the many descriptions of Dr. Kraft's own panics and terrors, they are understandable and, in the end, powerful in their own way.

There a number of moments of outstanding drama here, often as related by the injured or deeply shaken soldiers. One involves a Marine in a convoy who had to decide whether to kill a little Iraqi boy who was about to throw a paper bag — which might have been a bomb — into his vehicle. His decision sends him into a state of complete shock. Another involves a case of hysterical paralysis of the legs of a soldier who believes that he, instead of his buddy, should have died during a firefight. This incident involves some classic Freudian technique on Dr. Kraft's part — not exactly CBT, but sometimes the old ways work best. But Dr. Kraft is not a writer of literary nonfiction. Her effort to tell the central and continuing story of Corporal Jason Dunham, the Marine whose hand she held and who saved his buddies' lives and eventually was recognized for his sacrifice, doesn't play out as strongly as I'm sure she hoped it would. More compelling in its very small way is the name of the room he is sent to when it seems sure that he is about to die — the "expectant room."

But I will tell you this: any reviewer, especially any reviewer who has not endured or witnessed such violent extremes, should feel sheepish about holding a work like this up to mere literary standards. As she did in Iraq, Dr. Kraft has done the best she can with the task before her, and her efforts are admirable and sometimes powerful. The book's shortcomings, in fact, serve to emphasize the enormities of this conflict. There may not be enough tears in all of us put together to grieve for those caught up and hurt by it, and for the world in which it is taking place.