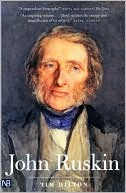 January 20: John Ruskin died on this day in 1900, aged eighty. The increasingly severe bouts of mental illness which dominated Ruskin's last decades are linked, say modern biographers, to his odd and disastrous love life, notable for a nine-year marriage that was never consummated and, at age fifty, his hopeless pursuit of a teenager. This second non-relationship is usually described as being along the lines of that between Lewis Carroll and Alice Liddell. Ruskin and Carroll knew each other at Oxford, and the Liddell sisters attached themselves to Ruskin after Carroll. Such personal details have attracted a stream of movies, plays, operas and stories; the first of them, a silent film titled The Love of John Ruskin, appeared in 1912, just a dozen years after Ruskin died.
In his autobiography, Ruskin says that love, or specific relationships, were never very important to him. In order to portray "the exactly opposite temper of my own solitude," he first quotes a remark by Thomas Carlyle about the importance of love: "Not till we can think that here and there one is thinking of us, one is loving us, does this waste earth become a peopled garden." Ruskin reflects that, in contrast, his happiest moments "had always been when nobody was thinking of me," and that he craved an essential detachment:
My entire delight was in observing without being myself noticed — if I could have been invisible, all the better. I was absolutely interested in men and their ways, as I was interested in marmots and chamois, in tomtits and trout. If only they would stay still and let me look at them, and not get into their holes and up their heights. The living inhabitation of the world — the grazing and nesting in it — the spiritual power of the air, the rocks, the waters, to be in the midst of it, and rejoice and wonder at it, and help it if I could — happier if it needed no help of mine — this was the essential love of Nature in me, this the root of all that I have usefully become, and the light of all that I have rightly learned.
---
Daybook is contributed by Steve King, who teaches in the English Department of Memorial University in St. John's, Newfoundland. His literary daybook began as a radio series syndicated nationally in Canada. He can be found online at todayinliterature.com.