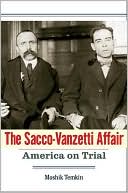 Sacco and Vanzetti were electrocuted on this day in 1927. The debate over their murder convictions seems irresolvable, and in some ways irrelevant to many of those books that have been inspired by the events. Maxwell Anderson's Depression-era free-verse play Winterset (1935), winner of the first-ever New York Drama Critics Circle Award, imagines a two-generation tragedy: a poor Italian American wrongfully executed for murder, his son determined to clear his name but caught in his own tangle of love, crime, and injustice. The play's closing lines sound the immigrant's dispossessed-but-defiant theme:
On this star,
in this hard star-adventure, knowing not
what the fires mean to right and left, nor whether
a meaning was intended or presumed,
man can stand up, and look out blind, and say:
in all these turning lights I find no clue,
only a masterless night, and in my blood
no certain answer, yet is my mind my own,
yet is my heart a cry toward something dim
in distance, which is higher than I am
and makes me emperor of the endless dark
even in seeking!
More recently, Moshik Temkin's The Sacco-Vanzetti Affair: America on Trial (2009) places the events in their largest possible political framework. The book's starting point is a comment from the early days of the trial, made by a newspaperman with more prejudice than nose: "There's no story in it…just a couple of wops in a jam." The jam was soon a national and international "affair," especially in France, where Dreyfus was still a sensitive topic—thus Romain Rolland's description, used by Temkin as one of his chapter titles, of "this frightful America whose heart is made of stone." But Europe was frighted by haughtiness as much as heartlessness, says Temkin:
What I found in the course of my research was that the Sacco-Vanzetti affair came to symbolize a new (and to many, disturbing) transatlantic relationship. Sacco and Vanzetti, who were themselves Europeans, were seen by many other Europeans as stand-ins for all of Europe in a future America-dominated world.
---
Daybook is contributed by Steve King, who teaches in the English Department of Memorial University in St. John's, Newfoundland. His literary daybook began as a radio series syndicated nationally in Canada. He can be found online at todayinliterature.com.