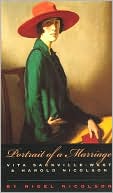 June 2: On this day in 1962, Vita Sackville-West died at the age of seventy. Easy to lose in the glare of the more prevalent images—the jodhpurs-and-pearls Vita, the bedmate of Virginia Woolf and others, the cross-dressing mistress of Sissinghurst Castle—is the fact that Sackville-West was a prolific, prize-winning and commercially successful author. She won the 1927 Hawthornden Prize for poetry with "The Land," rose to bestseller status in the 1930s for novels such as The Edwardians and All Passion Spent, and published some fifty books in all.
A handful of the fifty are on gardening, these based on Sackville-West's popular gardening column for the Observer, and on the Sissinghurst Castle Gardens. Now run by the National Trust, and said to be the most viewed in England, the SCG were begun in the '30s by Sackville-West and her husband Harold Nicolson. Sissinghurst is also a popular stop for the literary traveler, the Tower room where Sackville-West did her writing left as it was when she died (and she had not redecorated in the thirty years that she was there). From behind a wrought iron gate, visitors peer at faded Edwardian velvets, a bookcase of sex books by Havelock Ellis and others, the first Hogarth hand press (the one used to print The Waste Land, given by Woolf as a castle-warming present), the black Gladstone bag in which Nigel Nicolson found his mother's 1920 manuscript of her deepest and longest lesbian relationship—the bag sliced open, Nigel being unable to find the key. In his preface to Portrait of a Marriage, Nigel says that he believes his mother wished to have the frank and compelling story of her bisexuality told eventually, in the context of her husband's love and of "a marriage that succeeded beyond their dreams." Reading the journals and letters it is hard to disagree with him, or to argue with his mother:
I suppose that ninety-nine people out of a hundred, if they knew all about us, would call us wicked and degenerate. And yet I know with absolute certainty that there are not ninety-nine people out of a hundred less wicked and degenerate than we are. I don't want to boast, but we are alive, aren't we? And our two lives, outside and inside, are rich lives – not little meagre repetitions of meagre cerebral habits.….
---
Daybook is contributed by Steve King, who teaches in the English Department of Memorial University in St. John's, Newfoundland. His literary daybook began as a radio series syndicated nationally in Canada. He can be found online at todayinliterature.com.