Love Rocks is a biweekly look at new self-published romance titles from the community of writers at Rock*ItReads
We all know February 14th is the day to celebrate love and romance! It's the one day of the year when Cupid pulls his bow and we get hit! Roses. Chocolate. Love. Romance. Can it get any better?
Sure it can! I've got 3 wonderful books to inspire romance for the rest of the month! Three books that I enjoyed a lot!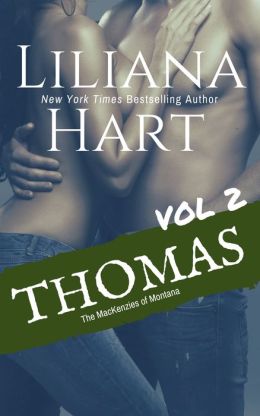 First up, To Catch a Cupid: Thomas, by Liliana Hart.
Now I will admit I was searching out books that had something to do with Valentine's Day, so this title caught my eye. But the story itself kept me interested. First off, you need to know that the book is a 'catch up' on a couple already featured in The Mackenzie's—Thomas and Cat. ( a popular series by the author, Liliana Hart) I haven't read the previous book and was a little concerned I wouldn't be able to enjoy the book. No worries there. I loved this novella. To Catch a Cupid focuses on a couple who've been married for over 10 years. They've fallen into that rut that a lot of married couples do. Familiarity totally breeds routine and even boredom and it's easy to take each other for granted.
Without giving too much away, Cat and Thomas both realize that they're in danger of letting their relationship slide down that slippery slope that some couples never come back from. Because their love for each other is real and strong they both do what it takes to get back to where they were. After a few false starts (one big mistake on Thomas's part) They work at it and they work at it in a way that is real and satisfying. And oh the sexytimes! They are hot! I loved this book and have already downloaded their original love story! I hope you enjoy it too!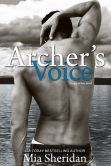 Next up is a book that while not a 'Valentine's Day' book per se…certainly hit all the warm, fuzzy and sweet things that I love in a good romance. Archer's Voice by Mia Sheridan.
This was a sweet book that gave us two damaged characters, Bree and Archer, who meet, fall in love and their HEA left a big, goofy smile on my face.
Bree is new to town. She's running from something dark, something awful and is quite happy disappearing so that she can heal. What she doesn't expect is to meet a man, a beautiful, damaged man who calls to her in a way she's not experienced before. Archer is damaged, both physically and mentally, and the most obvious thing is the fact that he can't talk. He's been on his own for a long time and not real used to interacting with folks.
The way these two young people come together, the way they learn to care for each other is sweet and I can't lie, the sex is hot. (oh and side note, hero is a virgin. WOOT! Loved this!) If you're in the mood for a book that will make you laugh and make you cry and give you the warm 'feels', this is the book for you. I loved it and it totally hit all the right romantic spots for me. The ending was both satisfying and well, like I said earlier I had that big old goofy grin on my face! The one that says, hell yes, that was a darn good book!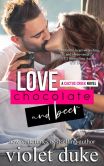 Lastly, I have to talk about the one book that I downloaded based solely on the title. Love, Chocolate and Beer by Violet Duke. Man, what an amazing title that covered three things dear to me. : )
I'm happy to report that the book didn't disappoint. I love a good contemporary romance. One that features a heroine who is a woman I'd love to call friend in real life. When she meets a man who not only is yummy and hot and (did I say yummy) But a guy who is a chocolatier??? Hello!!
This is a small town romance with a great cast of secondary characters (um, Ryan you better have your own book!) and a love story that is both competition (Dani is into beer, she's a brewmaster and Luke well, he's into chocolate) and falling in love. The two have differing opinions on what's more romantic, beer or chocolate ( I myself love BOTH) and well you'll have to read the book to find out what happens. (Side note, totally worth it—make sure you have some chocolate on hand with a cold beer to chase it down!) They have chemistry, the writing is great and I loved getting to know the town.
As I close off this column for February, I just want to thank all you romance readers who enjoy the love as much as I do! For me, a good romance should make you laugh, make you cry and give a little tingle now and again! I'm confident these three choices will do exactly that!! Enjoy and Happy Romance!
To sign in and make a comment, click on the Sign In or Register link in the upper right-hand corner of the page, then come back to this page to leave a comment below.
---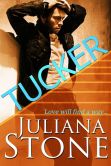 Juliana Stone's love of the written word – and 80's rock – have inspired her in more ways than one. She writes both paranormal romance as well as contemporary romance, and will debut her Young Adult contemporary novel in 2014. She spends her days navigating a busy life that includes a husband, kids, a dog, and a cat, while living somewhere in the wilds of Canada. Her latest release,
Tucker
is a continuation of her popular
Barker Triplets
series.