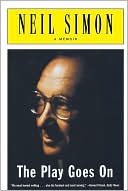 Neil Simon turns eighty-five today. One of Simon's earliest professional writing jobs was for The Phil Silvers Show, helping Sergeant Bilko send up the U.S. Army; but as described in his memoir The Play Goes On, Simon's actual writing start came while serving, to the best of his ability, in the Air Force. He enlisted at seventeen and got his call to report a week after his eighteenth birthday — the war in Europe already over, a week before V-J Day — and was soon on his way to Biloxi, Mississippi, for training. Very soon, both the recruit and his superiors began to think that he had made a poor career choice. He was not just a life-endangering klutz but also color blind — or blind outright, as far as the gunnery school commander could tell:
"An enemy plane will appear on the screen at any time. The moment you see him, you start to fire. Wait a second too long, and you and your crew are dead men…. Are you ready?"

"Ready, sir."

I squinted at all four corners of the screen, waiting for the enemy plane to show up. My fingers were a millimeter away from the buttons.

"Here we go," said the officer. Before I could see anything and fire, the officer said, "You're dead, son," just as a tiny speck on the screen grew slightly larger and then promptly went out of sight. I prepared for the next one, squinting even harder.

"You're dead, son," he said without emotion, as the dot came out of another direction.

After five "you're dead, sons" the lights went up….
Simon was soon posted to the Rev-Meter, the official Army Air Force newspaper, and then assigned to the recruitment office — writing copy for a ten-minute radio spot designed "to entice young men away from their homes, their girlfriends, dates, sex and good food." The recruiting drive sputtered until Simon had a bright idea and found his true career: "What if you gave us more time? Say fifteen minutes. And what if I made it funny? And in between the funny news items or Army humor, we could put in a plug for the benefits of joining the regular army." The show was so popular that it was soon a half hour long and touring: "Were we a success? Well, just look at the size of our armed forces today…." The army experiences themselves would go into Biloxi Blues, the Tony winner that, in 1985, opened the newly named Neil Simon Theater.
---
Daybook is contributed by Steve King, who teaches in the English Department of Memorial University in St. John's, Newfoundland. His literary daybook began as a radio series syndicated nationally in Canada. He can be found online at todayinliterature.com.