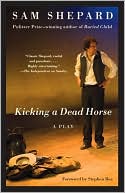 Sam Shepard was born in Fort Sheridan, Illinois, on this day in 1943. Shepard's father was an Air Force pilot, and the family spent years moving from base to base. They finally settled outside of Los Angeles on a small ranch, and Shepard's teen years were stable enough to have him join the 4-H Club; but according to an interview he gave at the age of thirty-six, it was the moving rather than the settling that stuck:
I feel like I've never had a home, you know? I feel related to the country, to this country, and yet I don't know exactly where I fit in.… Maybe that's good, you know, that I'm not in a niche. But there's always this kind of nostalgia for a place, a place where you can reckon with yourself.
The critics find an anxiety over place and identity in many of Shepard's plays, and one of his most recent, Kicking a Dead Horse, certainly reflects the need to "reckon with yourself." Commissioned and premiered by Dublin's Abbey Theatre, Kicking a Dead Horse is an agon for one character — not counting the dead horse, which lies stubbornly beside its freshly dug grave, its hooves straight up to the Badlands sky. As he tries in vain to roll the horse out of sight and mind, the horse's rider tries to figure out its, his, and America's collapse:
I do not understand why I'm having so much trouble taming the wild. I've done this already. Haven't I been through all of this? We closed the frontier in 1890-something, didn't we. Didn't we already accomplish that? The Iron Horse — coast to coast. Blasted all the buffalo out of here. An ocean of bones from Sea to Shining Sea.… Ripped the topsoil as far as the eye can see. Drained the aquifers. Dammed up all the rivers and flooded the valleys for recreational purposes! Run off all the pathetic small farmers and transformed agriculture into "Agribusiness"! Destroyed education. Turned our children into criminals. Demolished art! Invaded sovereign nations! What more can we possibly do?
---
Daybook is contributed by Steve King, who teaches in the English Department of Memorial University in St. John's, Newfoundland. His literary daybook began as a radio series syndicated nationally in Canada. He can be found online at todayinliterature.com.