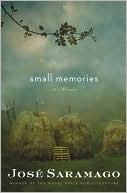 José Saramago, Portugal's only Nobel laureate for literature (1998), was born on this day in 1922. In an interview several years before his death in 2010, Saramago said that he thought the best place to start for anyone unfamiliar with his unusual novels would be Journey to Portugal, his 1981 travel book. Perhaps he's right, but surely second place goes to Small Memories, his anecdotal biography of his early years. Saramago included some of these anecdotes in his Nobel speech, as they represent the "echo of the conjoined voices of my characters."

Saramago's most affecting memories are of his grandparents, illiterate peasants who on the coldest winter nights would sleep with their weakest piglets wedged between them in bed. He recalls his grandmother near the end of her life looking up at the stars from her doorstep and saying, "The world is so beautiful and it is such a pity that I have to die." He recalls stargazing with his grandfather, while getting his own turn as piglet:
I remember those warm summer nights, when we slept under the big fig tree, I can hear him talking about the life he's led, about the Milky Way, or the Road to Santiago as we villagers still called it, that glowed above our heads, about the livestock he reared, about stories and legends from his remote childhood. We would fall asleep late, well wrapped up in our blankets against the dawn chill. But the image I can't shake off at this melancholy hour is of that old man advancing beneath the rain, stubborn, silent, like someone fulfilling a destiny nothing can change, except death. This old man, whom I can almost touch with my hand, doesn't know how he will die. He doesn't yet know that a few days before his final day, he will have a presentiment that the end has come and will go from tree to tree in his garden, embracing their trunks and saying goodbye to them, to their friendly shade, to the fruits he will never eat again. Because the great shadow will have arrived, until memory brings him back to life and finds him walking along that sodden path or lying beneath the dome of the sky and the eternally questioning stars.
---
Daybook is contributed by Steve King, who teaches in the English Department of Memorial University in St. John's, Newfoundland. His literary daybook began as a radio series syndicated nationally in Canada. He can be found online at todayinliterature.com.