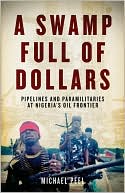 November 10: Thewriter-activist Ken Saro-Wiwa was executed by the Nigerian government on thisday in 1995. Officially, Saro-Wiwa and eight others were convicted of beingresponsible for the murder of four Ogoni tribal chiefs, but most regard thehangings as a political rather than a judicial act. Saro-Wiwa and the othershad been too outspoken in their criticism of those who were developing andpolluting the oil-rich Niger Delta, and had accused too many—federalpoliticians, tribal chiefs, Shell Oil—of having their fingers in the"lootocracy" pie. When the protestors could not be bribed,blackmailed, or beaten into stopping their campaign to obtain a measure ofself-determination and prosperity for their Ogoni people, they were hung, theirbodies buried in a secret, common grave.
Shell recently settled out-of-court with the families ofthose executed, the $15.5 million offered as a "gesture ofreconciliation" rather than an admission of culpability. But in the fifteen years since Saro-wiwa's death, thecombined oil, ethnic, and environmental conflicts in the Niger Delta have spunalmost out of control, turning the region into Africa's Wild West. In theopening pages of A Swamp Full of Dollars:Pipelines and Paramilitaries at Nigeria's Frontier (2009), investigativejournalist Michael Peel describes his rendezvouswith Mujahid Dokubo-Asari, one of the most visible contemporary activist-rebelscamped out in the Delta, as if "Nigeria's Robin Hood, the creeks andmangroves his Sherwood Forest":
…After a few minutes, the branches fell away like a curtainto reveal the theatre of Asari's camp. I could see smoke and hear drums andchanting. A long white drape fluttered from a stick 20 feet high, like apennant at a medieval English jousting tournament. The flag had been raised inhonor of Egbesu, a spirit revered by members of Asari's Ijaw ethnic group.Nearby a man in a red hat was holding what looked from a distance like a blackchicken. I heard a sound like a flute, as if serenading the visitors to thissacred grove.
Saro-Wiwa's campaign on behalf of the Ogoni was non-violentand grass-roots; Peel notes that all of Asari's men carry AK-47s, and thattheir leader owns a handful of vehicles, most of them Mercedes.
---
Daybook is contributed by Steve King, who teaches in the English Department of Memorial University in St. John's, Newfoundland. His literary daybook began as a radio series syndicated nationally in Canada. He can be found online at todayinliterature.com.