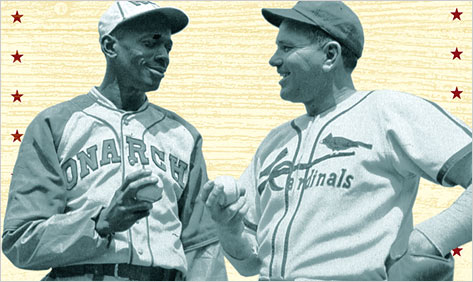 In the decades before Jackie Robinson broke baseball's color line, white superstars like Stan Musial, Dizzy Dean, and Bob Feller barnstormed around the country playing against black teams in rural hamlets like Van Meter, Iowa and Enid, Oklahoma. Timothy Gay's meticulous, eye-opening account of these encounters offers up a rare glimpse of the world in which such memorable baseball was played in such intimate surroundings. More crucially, it reveals how Black Hall of Famers such as Josh Gibson, Cool Papa Bell, and Satchel Paige "made white club owners, scouts, and fans appreciate the caliber of ball being played in the Negro Leagues, and forced them to confront the absurdity of" MLB's apartheid.
Much of this reckoning has to be attributed to the presence of the ageless, tireless Paige, who could pitch five games a week and still utterly frustrate hitters like Joe DiMaggio and Musial. Paige was also a vaudeville entertainer in cleats; his crowd-pleasing hijinks included occasionally ordering his fielders into the dugout as he pitched to batters. Paige's most consistent barnstorming rival was Dizzy Dean, whose clownish on-field demeanor and off-field antics matched Paige's. In one memorable game, Dizzy parodied Paige's famous high-kick windup to strike out Satchel himself. Paige returned the favor by whiffing Dean in his next at bat. But for all his talent and showman ship –as has been chronicled in detail in Larry Tye's recent biography – it was his teammate Robinson who was picked to first integrate the Major Leagues, and Paige was well north of 40 when he broke into the majors, helping Feller's Indians win the 1948 World Series.
Gay does more than give us highlights from those legendary matchups: he takes care to brings readers behind the comical façade mounted by players like Paige and Dean, with an eye to the privations that had been the prologue to their careers. Paige's boyhood in Jim Crow Alabama was beyond squalid; baseball gave him true joy. Dean was equally poor, a southern white who'd picked cotton with black field hands and for whom "black-white games were about having a good time and making money, putting on a fun show against the best possible competition." In casting light on these long-forgotten interracial games, Gay proves that Jackie Robinson was not alone in his role as an athlete turned trailblazer.