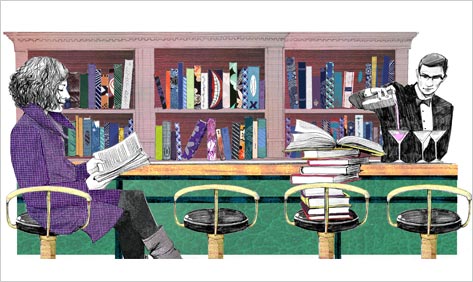 "[Naples, Italy] is trying to stake out a reputation as a civic innovator by positioning Naples at the cutting edge of dog-waste eradication … The idea is that every dog in the city will be given a blood test for DNA profiling in order to create a database of dogs and owners. When an offending pile is discovered, it will be scraped up and subjected to DNA testing. If a match is made in the database, the owner will face a fine of up to 500 euros, or about $685."
— The New York Times, February 23, 2014

Giuseppe,
Buongiorno. Hope all is well with you and your entire family, especially the new pups. I am enclosing an article you may have missed. I suggest that you read it before you urinate on it. As you will see, it is a matter of grave concern. Yes, yes, call me the dog who cried undomesticated common ancestor, but I really think that this time, they're out for us. I know I was concerned about collars and tags, but this goes way beyond. They want to put us in a database? I thought Italy was a free country, where we could roam as we wish, eat pizza scraps, and defecate without worrying that it was going to be collected and analyzed. I hope you're as up in legs about this as I am. We need to arrange a peaceful demonstration on Via San Biagio. Near the gelato place. I've pooped there many a time and no one dared to sample it.

Buttsniffs,
Benedetto


Benedetto,

I did see the article — my owner still gets the paper edition — what an Olde English Sheepdog! Frankly, I'm not sure why you're so concerned. Worried they'll find out about that bite you gave the trash collector in '04? I told you that you should have turned yourself in. I think the statute of limitations has expired anyway, although I can ask my friend who eliminates outside the courthouse to peek inside and have a look at the penal code. None of it's ever going to happen anyway — you know the government's screaming is worse than its chewing. Remember what happened when they tried to put the local elections online? They don't know a thing about databases — and you can't teach an elderly gentleman new skills. As far a protest? I'd let sleeping people lie, to be honest.

Hump ya later,
Giuseppe


Giuseppe,

I don't think you understand. It starts with poop and what's next — paternity testing? If I had to pay for every puppy I've been responsible for, I wouldn't even have enough left for milk bones. Heck, my owner would probably have me neutered! And that 500 euro fine — you know as well as I do that the cost won't really be borne by the people. No, they're always looking for a scapedog. They'll pass that down to us with cheaper kibble and no more treats. I love the treats, especially the ones that look like bacon. Look, I'm as sick as one of us today, so maybe that's making me extra cranky — but we can't let them get away with this.

Grrrr,
Benedetto


Benedetto,

I hadn't thought about the paternity issue. I guess I just want to give them the benefit of the doubt. If they're serious about clean streets, maybe we can throw a bone to those crazy humans and let them take our poop — if it means then they might move onto more serious problems, like cigarette butts and fast food wrappers. (I'm glad we're smart enough not to smoke, to say nothing of being unable to smoke.) With his diet, I'm worried my owner's well-being is just going to the people — he eats real bacon, not just bacon-shaped treats! And if I burn my paw one more time on a lit cigarette! I really hope they're not just focusing on the poop alone, because they're yelling up the wrong bit of foliage if so.

Pawbump,
Giuseppe


Giuseppe,

Okay, okay, I'll call off the ladies and give this a chance. You're right that I don't want to open a can of fleas. Give my best to Fluffy, and we'll talk soon — are you going to watch the grey-haired humans run around the track on Friday? If you're looking for a tip, bet on Frank — I know his trainer.

With lifted leg,
Benedetto

Bark up the right tree for more of Jeremy Blachman's humor writing at http://jeremyblachman.com.